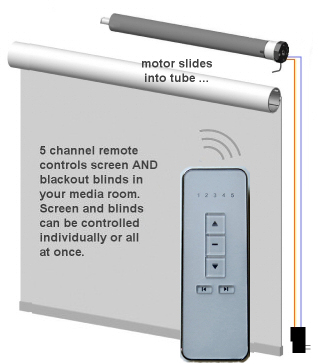 FAQ: Do you have a list of frequently asked questions (FAQ)?
Yes, FAQ list is here:
Can sun shades be motorized?
Are your motors battery operated?
Do you have an affordable home automation system controller for blinds and shades?
Can I make a remote control home theater screen from an Ikea® roller blind?
DC shade motors - can they be reversed with a simple switch?
I would like to cover two separate windows but I only need one remote. Can you let me know what I need to operate 2 blind motors with 1 remote?
I bought an extra remote control for my radio-equipped motor, one for the entry with the wall holster and one for the coffee table. How can I operate one blind motor with two remotes?
I want to install a 10' high shade on my greenhouse window. Will your motors handle this type of installation?
I want a remote control system that will control my shades AND some lighting. Will your radio equipped motors do this?
Do you sell motorized blinds and shades for Churches and Synagogues?
Can I use your roller blind motor KIT on my existing Roller Shade?
What is the inner profile of the roller I need to purchase on my own?
When you say 'radio' motor, is that different from infrared remote control?
We sincerely hope you enjoy using these advanced motors; if you have any questions, please feel free to contact us at any time!