Dual Shades and Blinds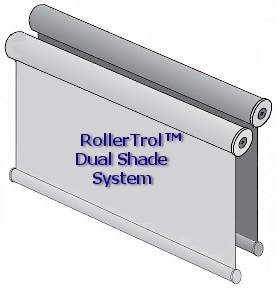 Dual shade systems make it possible to deploy two different shade types, depending on light conditions and room usage.
If your home theater projection system requires blackout conditions, you could deploy opaque shade material.
If it's bright outside, you could deploy tinted solar film on one of the rollers. If you want privacy, you could deploy translucent shade material.
The 25 mm motors require about 2" of horizontal space, so you need about 4 inches of frame depth to accommodate a dual roller system side by side. If you use the vertical offset roller arrangement, you can do it with a frame depth of approximately 2.5" (depending on drop height and number of wraps when it is rolled up).
You can order our standard window blind starter kits in our online store and add a second motor:
Our remote controlled tubular motors can be set for reverse operation so that you can organize the motorized shade roller positions however you like.
The motors can be installed in either the left or the right side of the roller tube and each one can be programmed to go in the opposite direction when you hit the 'up' or 'down' switch on the remote.
You could easily set up a multiple window configuration where all the shades of one kind would retract simultaneously (going up), and all the shades of another kind could be deployed simultaneously (going down).





Some typical dual shade arrangements are shown above (left to right): dual shades side by side, dual shades with vertical offset, dual shades with vertical opposed rollers, triple horizontal (go crazy with three shades!), 14 channel remote.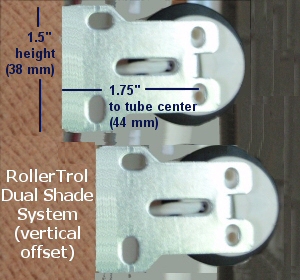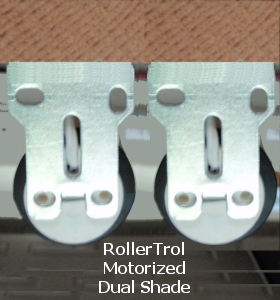 Each blind can be assigned a different channel, but you can also 'group' the shade operation. The first blind in each window can be assigned to one group, and the second shade of each window can be assigned to a different group.
So if you had, for instance, some tinted solar film material on your roller in each of 3 adjacent windows, you could make all three shades of that type deploy at once. Channel 1 might be a blackout shade, channel 2 might be solar film, and chanel 3 could be a translucent shade.
You can order our standard window shade starter kits in our online store and add a second motor:
Window Shade Motorized Starter Kits
We also have very affordable wireless sun sensor (or day/night) triggers, and wireless programmable timers.
We sincerely hope you enjoy using these advanced motors; if you have any questions, please feel free to contact us at any time!