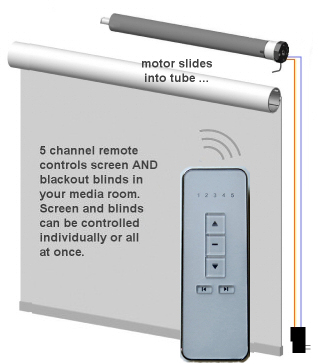 FAQ: I would like to cover two separate windows but I only need one remote. Can you let me know what I need to operate 2 blind motors with 1 remote?
Our radio equipped motors use remote controls with multiple channels, so you can control more than 1 shade or blind motor with a single remote. Our radio motor kits include an 8 channel remote as standard equipment.
We have a special 'dual shade motor' kit that would be your best buy. It was originally intended for folks that want two different shade materials on the same window, but it can just as easily be use for a single shade on two windows.
This kit will give you exactly what you need: two shade motors controlled by one remote. It also includes all the mounting brackets and a power supply - everything you need to get dual shades up and running.
These kits can be used with a wide variety of window sizes and shade fabrics. For more info, see our duo shade page:
motorized remote control dual window shade kit
We sincerely hope you enjoy using these advanced motors; if you have any questions, please feel free to contact us at any time!