Motorized Blinds, Windows, Skylights, Louvers: Welcome to RollerTrol™ DIY
We specialize in automatic 12v motors for blinds, windows, skylights, and glass & aluminum louvers; here's a quick summary of what we offer:
Why buy from us? See some good reasons here ...
A summary of our product line (including awning window motors): Our product line ...
Check out our window motors for single-hung and double-hung windows (picture below), and see how we load test our chain actuators.
Do you need glass louver windows? We have custom units built to suit your needs: motorized glass louver windows.
Do you need aluminum louvers? We have custom units: motorized aluminum louvers.
We also have Rollease™ side guides to make an effective light seal for blackout blinds in a media room.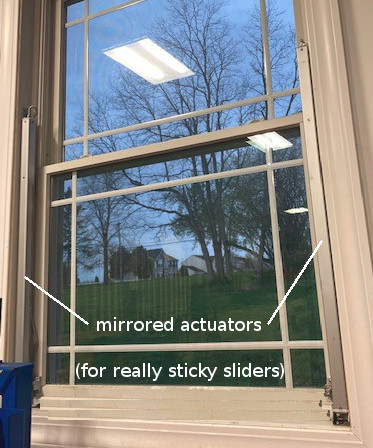 Why do we say we use a Unified remote control system? Because our BroadLink® automation hub can LEARN both radio (RF) remote control signals AND infra-red (IR) remote controls that are typically used with your TV and audio systems; see home theater phone app article series, with Alexa (optional).
This means you can say goodbye to that cluster of remotes you have on your coffee table! You can start with our simple hand held remotes to control our radio motors, and later add on a full home automation system for our radio motors, allowing control by any web enabled device (phone, tablet, PC, etc) - at home or away.
Our high quality RollerTrol™ DC tubular motors for motorized shades and blinds with state-of-the-art remote control systems are precision engineered, safe for children and adults, and easy to install.
Are you looking for a bottom-up shade or skylight shade? Check out our ShadeSlider™ motorized skylight shade and bottom-up blind system.
What our customers are saying:
♦ "Doing the blind myself with your motor ... cost me $240.00 ... I saved $600" - DH, Edmonton, Alberta
♦ "Thank you for an impeccable service! Wish everyone would work like you!" - JC, Miami, Florida
♦ "Great product, exceptionally quick delivery" - PV, New South Wales
♦ "Great seller, fast communication and shipping, highly recommend, thank you" - RS, Verdun, Quebec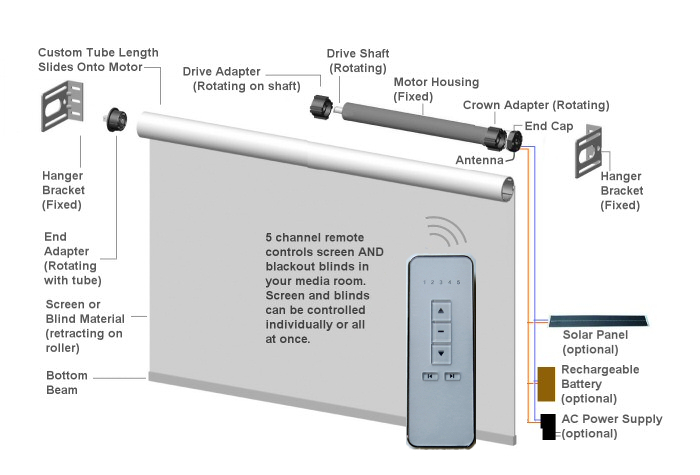 Custom Sizes: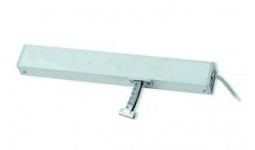 Our skylight and window opener motors (chain type) can be manufactured with a custom stroke that is shorter than the 12 inches they normally come with (300mm). These can be used when there is a requirement for ADA compatible motors. Please note that our sliders for sticky windows are always manufactured to specification (Note that our 20 lb actuator comes with an adjustable stroke).
In the case of blind motors, width is controlled simply by the length of slide-on tubing you select, and the height is controlled by the length of material you select (maximum motor turns is unlimited, unlike other brands). Different motor torque ratings are also available; for example we also have heavy duty blind motors that can lift 45 lbs.
Quiet:
At an average 38 db, our RollerTrol™ motors are among the quietest 12v DC motors in the industry. Many other tubular motor brands are much noisier.
Advantages of Our DC Series Rollertrol™ Motors:
lower cost overall
safe: low voltage 12 volts will not harm children or adults
wiring is simple, typically lamp or heavy duty speaker wire, easy to conceal
motor can be used in a variety of environments (home, RV, marine, etc)
many power source choices: A/C house current, battery, solar, etc.
Warranty:
We guarantee our RollerTrol™ motors against defect for a full year, with a direct replacement shipped to you. They have been factory tested to 30,000+ cycles.
Power Failure Protection:
If you use a battery in the system, they will work even when your building power has failed. You can use small high-efficiency rechargeable backup batteries that can be easily concealed, or you can use our motors with a built-in battery that is not connected to the AC grid, except during re-charge (solar optional).
Power Source Flexibility:
Use a 12v solar panel system, wind generator, water wheel or other 12v power source. These are very efficient motors that require very little power to operate, typically 5 to 10 watts for perhaps 30 seconds when operating. If you use the radio remote type, the standby power is approximately 60 uA for the radio receiver.
RollerTrol™ Systems Use Regular AC:
If you want an AC grid powered system, just use our standard plug-in 12v power supplies. The battery is completely optional.
Use RollerTrol™ for Home Theater Screens AND Blackout Window Blinds:
You can make our RollerTrol™ motors do many different things. For example, see our article on how to make a motorized retractable skylight shade or window opener (linear actuator).
Control Window Blinds and Projector Screens Simultaneously:
Our multi-channel radio controllers can control groups of multiple radio equipped RollerTrol motors simultaneously, and you can also control them individually. Remotes can be cloned for multiple control locations.
Use Timers and/or Configure Light-Sensitive Blind and Shades
The BroadLink® RF-IR blaster automation unit is an affordable blind and shade hub, operated by Android and IOS apps. This device can learn RF radio signals for our blind motors and skylight/window openers and IR learning for TV. Convert old phones and tablets into powerful WiFi home automation controllers!
See our article series about BroadLink® Temperature and light sensitive blinds, shades & window openers
We also have interfacing for all home automation systems via relays (see our blind & shade automation guide).
Control Blinds and Screens In Other Rooms:
Our RollerTrol™ RF radio type remote controls pass the signal through walls and have a range that can reach anywhere in a typical home.
Create Large Groups of Controlled Motors:
We currently we have hand-held remotes with up to 15 individual channels. There is no limit to the number of RollerTrol™ motors that can be set up in a group, provided you use a controller and power supply that can handle the load adequately.
Set the Upper and Lower Travel Limits Easily:
RollerTrol™ radio equipped motors use an electronic system set by activating a 'learn' mode with the multi-channel remote control, and the limits are set from the remote. You don't have to touch the motors at all. This is much easier than the old style with hard to access screw settings on the motor.
The non-radio type of RollerTrol™ motor is set by activating a 'learn' switch on the motor itself, in conjunction with our low cost RF remote controller. This is still much easier and more accurate than the rotating screw system.
Use Any Length of Blind, Screen, or Banner Material:
The RollerTrol™ motors use an electronic 'pulse count' system, instead of the old style of screw adjustment mechanical limit system. Unlike these older mechanical designs, the number of rotations allowed is UNLIMITED.
Tubular Motor Comparison Matrix: (*key specifications in yellow)
Part
Number
Radio

Lift
lb/kg
Drive
OD
in/mm
Typical
Tube OD
in/mm
Torque
Nm
RPM

Volts
Idle
Current (mA)
Max
Load
(mA)
Standard Series - With Internal Battery (25mm housing diameter)
TMKP-1-RB
Y
12/5.5
1.37/35
1.5/38
1.5
32
12
0.07
1500
Standard Series: (25mm housing diameter)
TMDP-12-25-15-32-R
Y
12/5.5
1.37/35
1.5/38
1.5
32
12
0.07
1500
TMDC-12-25-15-28-NR
N
12/5.5
1.37/35
1.5/38
1.5
28
12
0
1500
HEAVY DUTY MAXI Series: (35mm housing diameter)
TMDP-12-35-45-9-R
Y
45/20
2.4/60
2.5/64
10
9
12
0.07
4000
TMDG-12-35-45-9-NR
N
45/20
2.4/60
2.5/64
10
9
12
0
4000