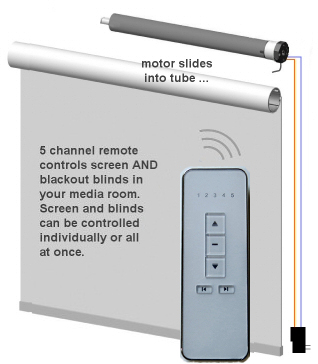 FAQ: Do your have battery powered blind motors ?
Our motors run on 12 volts DC (safe for kids and adults) and can be powered by battery operation if the main AC power grid fails. You can install a high capacity closed cell RV battery in a convenient location with a trickle charger (or solar panel) to power your entire system, or you could conceal small rechargeable batteries up behind the valance for each individual motor (or group of motors).
Battery Powered Motor with Built-in Rechargeable Battery: No Wires Needed!
We also have a battery powered series where the rechargeable battery is built into the motor housing itself. These motors operate for many months without recharging, and the recharge interval can be greatly extended if you install the optional window mounted solar panel that we provide for these motors.
There are 2 available sizes:
The 'mini' series of battery powered motors can be used to retrofit many off-the-shelf shade brands (4 lb - 1.8 kg lift):
rechargeable 'mini' blind motor starter kit
The 'standard' series of battery powered motors can be used for custom installations or retrofit of larger blinds (10 lb 4.5 kg lift):
rechargeable custom blind motor starter kit
This is a link to a list of all battery motors, starter kits, and accessories:
all battery motors and accessories
'Future Proofed' Battery Motors
Our battery motors use RF radio control with multi-channel remotes for individual and group control of shades and blinds). Very easy to set up and operate, these systems are also 'future proofed' because you can later extend your system and use a web-enabled device (tablet, phone, PC) to control your roller blinds and other devices.
Please see this article series on how to install Veralite™ for shade and blind control.
Other Options for External Battery Motors
If you want to use our remote control radio motors with external batteries, please consider the standby current of the motor while it 'listens' for an up/down activation signal. Our regular motors use about 20 to 30 mA (1 mA = 1/1000 Amp) of constant current, and will drain a small battery after a few days.
We do have special motors to use with battery systems with trickle chargers or solar panels that have an ultra low standby 'listening' current of only 0.03 mA:
ultra-low standby current remote control solar motor
This unit uses the same motor as the standard series with buit-in rechargeable battery.
We sincerely hope you enjoy using these advanced motors; if you have any questions, please feel free to contact us at any time!