Sunlight Sensor For Blind Motors - Part 1: Battery & Controls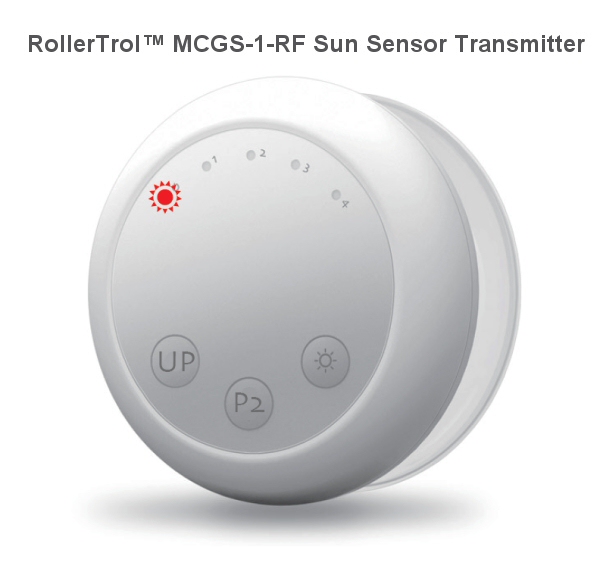 FAQ: Can a light sensor be used with electric blind motors?
A: Yes, a sunlight sensor with a photocell can be used to activate our radio equipped blind and shade motors using RF (Radio Frequency) for transmission of a remote control signal. This is a three part article series on how to set up a light sensor.
Input voltage: 3V (CR2032)
Transmitting frequency: 433 MHz
Transmitting power: 10 milliwatt
Operating temperature: -10° to +50°
Intensity Level: 15k LUX~75k LUX
Transmitting distance: 200 meters (650 ft) open air, 35 meters (115 ft) through two walls
The MCGS-1-RF wireless wall mounted light sensor transmits the radio signal to a small antenna in the motor, where a microprocessor decodes the signals to operate the blind motor. The sunlight sensor is able to respond to sunlight, general daylight or artificial light.
Sunlight sensors for blinds and shade motors can be purchased in our online store, click here to view in a new window
The RF signal is also capable of passing through walls and in many cases can reach anywhere inside a typical home.
Our multi-channel hand held remotes have up to 15 channels (plus ALL) that can be programmed to control blind motors in various different rooms and hallways throughout the house. These remotes transmit the same signal as the light sensors and can be used in conjunction with them. You can also use this sensor with a timer for light sensitive operation of blinds & shades AND timed operation.
The first step in the setup of these light sensor switches is to remove the cover, exposing the battery compartment. There is a slot between the top and bottom halves at the 9 o'clock position (looking directly at the face, just above the UP button). The button battery type is CR2032.
If you look at the edge, you'll see the small aperature that accepts a flat screwdriver blade. When you (carefully) rotate the screwdriver blade in the slot, it will pop the two halves apart. Try and make note of where the bottom half is in relation to the top half, so that you can easily snap them together again in the same place.
You can then lift off the cover, exposing the battery compartment. The battery should be inserted with the positive (+) terminal facing up; then you can snap the cover closed again.
Note that the light sensor itself is on the backside of the unit, monitoring light levels through the transparent suction cup. When you mount the unit on a glass surface or window, the controls are facing you, but the light sensor monitors light conditions on the opposite side.
After the battery is inserted, you can press the any switch to confirm proper operation - an LED should flash when you do this. There are 3 switches: UP (used to test the motor assignment), P2 (used for assigning a motor), and a light sensitivity switch (picture of sun).
There are 5 indicator LED lights at the top of the control face, one (sunlight symbol at left) that is primarily used for indicating test modes, and 4 light sensitivity indicators.
Light sensors for blinds and shade motors can be purchased in our online store, click here to view in a new window
PART 1: Sunlight sensor for blinds - Battery and Controls (YOU ARE HERE)
PART 2: Sunlight sensor for blinds - Assigning a Radio Motor
PART 3: Sunlight sensor for blinds - Adjusting Light Sensing Modes
We sincerely hope you enjoy using these advanced motors; if you have any questions, please feel free to contact us at any time!