These instructions apply to our Maxi DC blind motor (non-radio type) with 12v DC wired power. Please see our remote control Maxi motors if you want to get information about our remote control Maxi motors
Product used in this article:

TMDG-12-35-45-9-NR G Series MAXI Shade and Blind Motor (45 lb lift).
12v AC/DC power supply (110/240v 50/60 Hz)
Please Note: it is always a good idea to set this up on a table first to test the operation
---
Introduction
Our non-radio Maxi blind motor is used where high lift capacity (45 lbs, 22 Kg) is required (very large blinds and shades, golfing impact screens, projector screens, etc).
It can be controlled by a simple DPDT switch. Here is an article that has some suggestions: how to use a switch to control a DC motor. We also have switches available, as discussed in that article.
The wiring is very simple:
Connect the 2 wires of the motor to the 2 output wires of the switch (polarity does not matter, but reversing wires reverses direction)

Bracket Dimensions & Clearances for the Blind and Screen Motor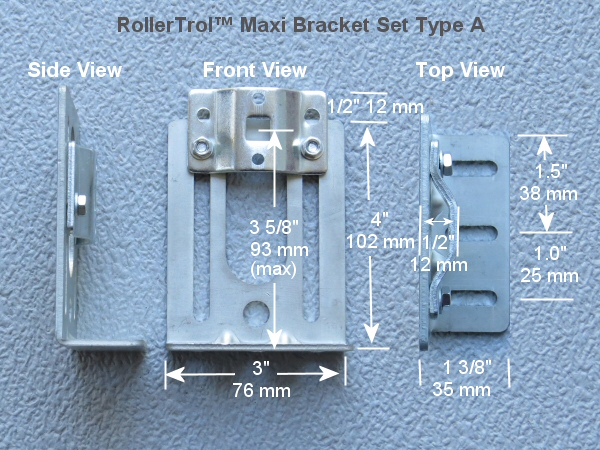 The adjustable brackets for the Maxi allow for a good range of adjustment to accommodate different roll sizes and fabric lengths.
They require an allowance of 2" (51 mm) within the window frame, so if your window frame inside width dimension is 50", the maximum width of your fabric/tube would be 48".
The motor itself is 25 5/8" (600 mm) in length, tip to tip, and the minimum tube length is 24.5" (623 mm). This means the smallest window frame width you could use with this motor is 26.5" (673 mm).
The brackets also come with cotter pins if you feel it necessary to lock the square pin at the motor end into the bracket.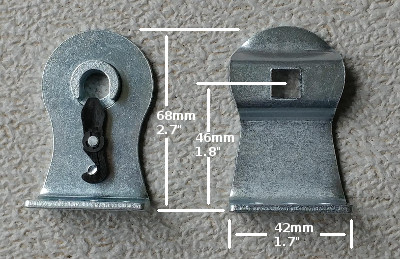 There is also a smaller bracket set available, for installations where space is at a premium. These brackets are not adjustable.
Setting the Travel Limits:
Please Note: Do not adjust travel limits unless motor is already in the tube. The crown roller must rotate in sync with the drive adapter!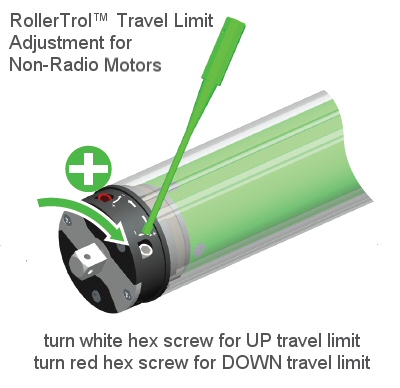 The provided hex tool is used to set the travel limits on the non-radio Maxi motor type.
The motor can travel a maximum of 30 revolutions. The white hex screw adjusts the UP travel limit and the red hex screw adjusts the DOWN travel limit, although it does depend on which end of the tube you insert the motor.
We sincerely hope you enjoy using these advanced systems; if you have any questions, please feel free to contact us at any time!