TPMS Retrofit Kit for Cars & RV Motorhomes: Introduction
Adrian Biffen, Senior Partner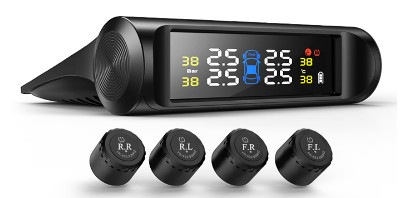 Tire pressure monitoring systems (TPMS) became mandatory for new vehicles in the USA in November of 2014, but you can easily add this retrofit kit to your older RV motorhome, travel trailer, car or other vehicle, if it is not equipped with such a system. We use this system on some of our older vehicles and they work great!
Just screw the wireless sensors onto each tire valve stem, and stick the display console to your dash with the strong adhesive pad. That's all you have to do!
It will monitor tire pressure and temperature in real time, displaying data on the solar powered dash console. This unit that will notify you with audible alerts and flashing display, as soon as tire pressure drops below a certain level. This is especially helpful if you have a slow leak that might normally go un-noticed.
Aside from leak detection, it will also help keep your tires at the optimum tire pressure, maximizing fuel economy and minimizing tire wear. This affordable unit will pay for itself in short order!
TPMS Retrofit Kit Features:
Real-time display of all 4 tire pressures and temperatures
Pressure units: PSI or BAR, Temperature units: °C or °F
Wireless motion sensitive sensors prolong sensor battery life
Display console is vibration-sensitive; turns on/off automatically
Low tire pressure alarms can be set by owner (audible with flashing display)
High tire temperature alarms can be set by owner (audible with flashing display)
Large built-in solar panel charges wireless display console (can also be charged by USB)
If you are interested, you can purchase the TPMS Retrofit Kit in our DIY online automation store.

Articles in this series:
Part 1: Tire Pressure Monitoring System (TPMS) Introduction (you are here)
Part 2: Understanding the TPMS Dashboard Display Console
Part 3: Installing & Pairing the Tire Pressure Sensors