Phone App for Blind Motors: Activating Your Home Automation Hub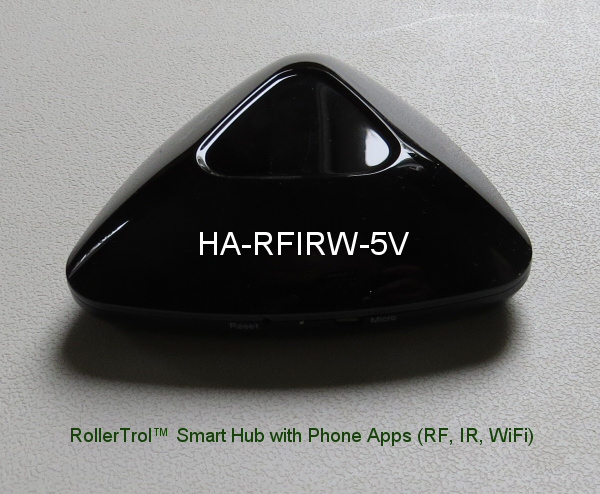 This article is about configuring the BroadLink® smart hub for controlling our blind motors, skylight/window openers, smart film, drapery motors, and many other devices, such as fans & LED lighting, with a simple phone app.
For more background information, please see the previous article for an introduction to the smart hub.
When you receive your automation hub, there are 3 pieces in the box; please check the following:
The hub itself
A 5v AC power adapter
A USB cable with a micro-USB connector that powers the hub from the adapter
Please Note: It is important to follow these instructions sequentially to avoid any confusion.
This controller has quickly become our hub of choice for a number of reasons, not the least being the ease-of-use factor, and if you follow these instructions carefully, you will find that it is quite "user friendly".
One of the most important features is its ability to "learn" RF radio commands, which means it can directly control our radio motors, whether they are our new G series radio motors or the older R series motors. It can also learn x10 radio commands, in case you have a few of those old modules lying around. It is also an excellent IR code learner too, for controlling all your TV, sound and other media systems.
Buy These Products In Our Online Store
If you are interested, you can purchase these products in our DIY online automation store.
Powering Up The Smart Hub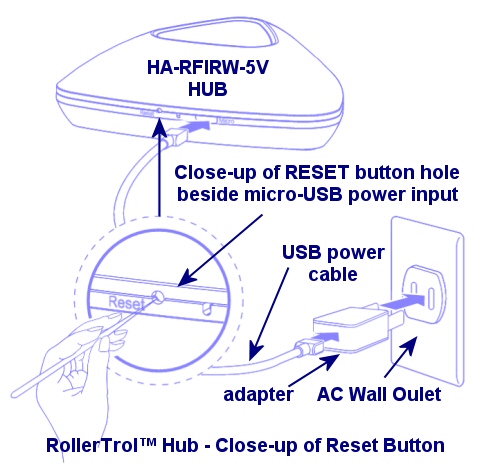 Referring to the pictures, the very first step is to remove the contents of the box and power it up by plugging the USB cable into the micro-USB port on the hub.
The standard USB connector on the other end of the power cable is plugged into the power adapter (which plugs into an AC wall outlet).
Please take note of the re-set button that is recessed inside a hole, on the same side and just to the left of the micro-USB port.
There are two LED indicators on an adjacent side: a blue one for WiFi, and a yellow one that indicates it is in "learning" mode. We first need to establish the wireless data connection from the hub to your WiFi router, so please observe the blue LED during this process.
When you apply power the blue LED should start rapidly flashing, about 5 times per second; this indicates that the hub is in "factory reset" mode, which is where we start from.
There are 2 ways to connect this unit, depending on the type of unit you have:
Direct SmartConfig™ mode
AP Mode
Connecting to Your Router With SmartConfig™
SmartConfig™ is the simplest method, and it will work in most cases. Once you have downloaded and installed the software, as described in the next article, you simply enter your WiFi router ID/password credentials, and the unit will connect automatically, with appropriate screen messages. You can try this now by advancing to the next page to download the BroadLink home automation program onto your phone. There is a progress indicator you can watch, to see if it is successful.
If you get a time-out connection error, it could be caused by memory corruption in your router. Our Asus bench router was almost brand new and basically state-of-the-art, yet the SmartConfig™ would not work.
We found that router memory can get corrupted, even though it is still working, and this can prevent the router from connecting to the hub.
If you get a connection failure, please reboot your router before you try anything else (you can remove/re-apply power to the router and force a reboot if you cannot access it). Also, it is important to note that these devices only support the standard 2.4 GHz frequency, and not 5 GHz.
If you still cannot get it to connect with SmartConfig™, please see this page and use the alternative AP mode method.
After the Hub is Successfully Connected to your WiFi Network
The hub will also show up on the 'Device List' in the app with an icon, similar to the picture of the environmental sensor as shown in the middle picture below. It will have a default name, but you can select it and change the name to whatever you want, as we have below. Here are the 3 main screens you will be dealing with, once the hub is connected: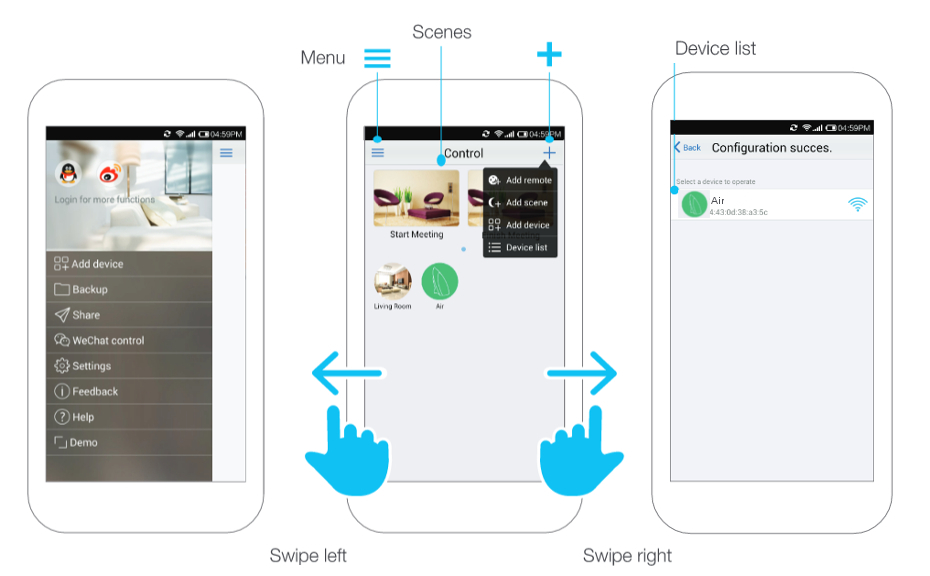 The first thing to do is to check for a device firmware update. If you look at the third screen above, you'll see the device that you have added to the system. Press it once to get a sub-menu, and you'll see a Tools icon (the gear symbol at top right of screen).
Press the gear symbol and you'll see a pop-down list of options, one of them being "Device Info". Select that option, and you'll see the "Firmware Update" selection. Please check that and update your firmware if it is not current.
Please Note: Wait if you see that it is stormy outside as you do not want to interrupt that process; do it only when you have a rock-solid internet connection, otherwise you could "brick" the device and render it inoperable.
Buy These Products In Our Online Store
If you are interested, you can purchase these products in our DIY online automation store.
Articles in this series:
Part 1-Smart hub for blind motors: Introduction
Part 2-Smart hub WiFi router connection: Activate Hub (you are here)
Part 3-Smart hub program installation: Download Software
Part 4-Smart hub methods: Creating Control Screens
Part 5-Smart hub example: Home Theater Control Screen
Also, see the follow-on series about our other devices: