Motorized Blinds and Shades: Automatic Temperature & Light Sensing
Introduction
This is the first article in this series about creating a blind and shade temperature and light sensitive monitoring system using the BroadLink® HA-RFIRW-5V automation hub phone app and ES-WIFI-5V e-Air environmental sensing module.
The e-Air environmental sensor can monitor VOC (Volatile Organic Compounds) air quality, temperature, humidity, light level, and sound level.
It also has IFTTT event capabilities (if-this-then-that) that can trigger the automation hub to activate our blind motors, skylight/window openers, smart film, drapery motors, and many other devices, such as fans and LED lights.
In this article we will be discussing the temperature and light level aspects of the sensor as applied to the operation of a double motorized blind or shade, such as the dual blind setup you see in the picture. This photo was kindly provided by one of our clients that we helped to make a dual blind system.
Buy These Products In Our Online Automation Store
If you are interested, you can also purchase these products in our DIY online automation store.
The BroadLink® ES-WIFI-5V e-Air Environmental Sensing Module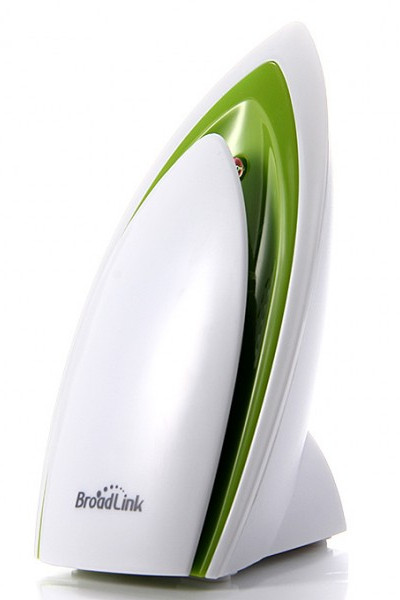 This environmental sensor can be used to trigger the closure of multiple shade and blind motors (and our skylight/window openers), and there are 3 main components to this system:
Specifications
Model
ES-WIFI-5V
Material
Flame-resistant PC
Height
~6" ( 15cm )
Input Voltage
5V DC
Input Current
1.0A
Working Temperature
0-50°C
Operating Humidity
≤80%
Wireless Power
≤0.5W
Wireless Type
Wi-Fi 2.4GHz b/g/n
Operating System
(phone or tablet)
Android / IOS
Supported IOS Version
IOS 7.0 or above
Supported Android Version
Android 4 or above
The HA-RFIRW-5V Controller Hub (not pictured)
If you didn't see the previous article series about using our HA-RFIRW-5V controller hub for home theater, you may be interested to review that series as this IFTTT environmental sensor is an add-on to that system. It does not need the hub to operate, but you'll need it if you want to simulate remote control of devices with RF or IR.
You can also see more info about our motorized skylight/window actuators here.
If you are looking for a simple light sensor to control your shades, you might consider our stand-alone light sensor for series G motors.
The next article will discuss the software setup and activation of the IFTTT (if-this-then-that) environmental sensor.
Buy These Products In Our Online Automation Store
If you are interested, you can purchase these products in our DIY blind and shade online store.
Articles in this series:
Part 1-Temperature and light sensitive blinds: Introduction (you are here)
Part 2-Temperature and light sensitive blinds: Activating the sensor
Part 3-Environmental sensor program installation
Part 4-Environmental sensor IFTTT event handling
Also, see the follow-on series about our other devices: