Home & Office Automation of Shades
Adrian Biffen, Senior Partner
Motorized blinds and shades are one of the hottest technologies, allowing you to control your window coverings with the push of a button or even just your voice. If you've been thinking about adding motorized blinds to your home, this guide will give you all the information you need to choose the right shades, and smart home integration to truly automate your windows.
Here are our simple multi-channel remote controls, with no electrical shock hazard. We also have units with 15 channels if you need more.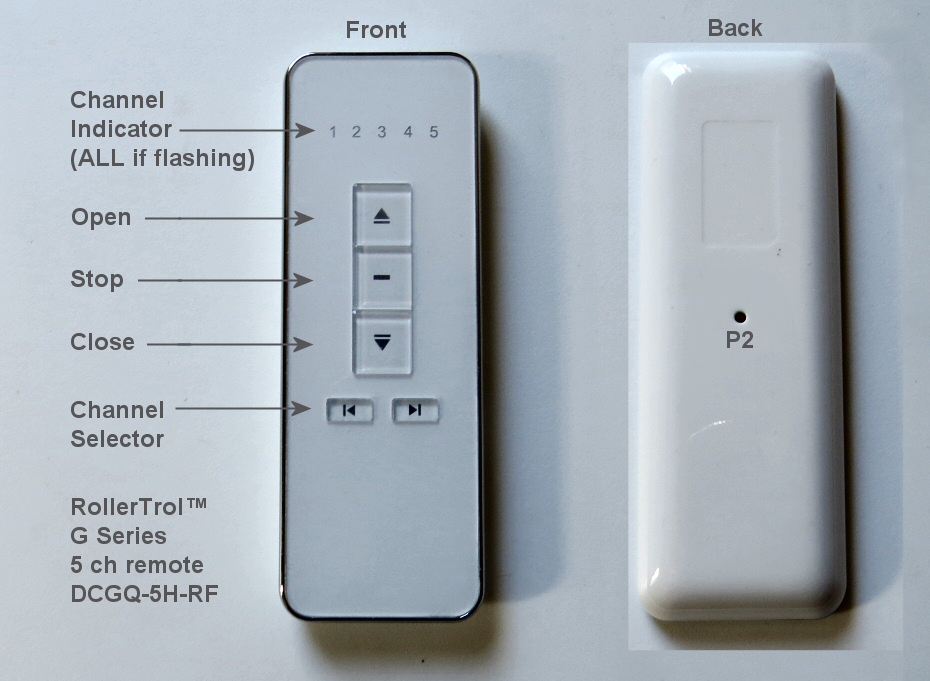 In this comprehensive guide we'll cover everything about motorized "smart" blinds and shades including:
What are motorized roller blinds and how do they work?
Key benefits of motorized shades
Types of motorization treatments
Home integration and voice control
Installation and DIY options
Read on to learn why motorization is one of the best upgrades you can make!
What Are Remote Control Motorized Window Blinds?
Motorized electric blinds and smart shades are regular window shades that have been outfitted with small tubular motors. They are mounted inside the head-rail tube and automatically raise, lower, open, close, tilt, or rotate the blinds with the simple touch of a button or swipe of an app.
Many motorized blinds and shades come with handheld remote controls, wall-mounted keypads, or smartphone apps so you can control them manually whenever you want. You can also integrate them with smart home units like Alexa for voice control.
Some key components that allow motorized blinds to function include:
Automation - Typically small motorization that raises, lowers, tilts, and rotates the blinds.
Power options - These can be powered via battery, AC power, or solar power. Battery power offers the most flexibility.
Remote control - Most systems come with IR or RF remote controls to operate the blinds.
Smart hub - Allows blinds to connect to and be controlled by home automation systems.
App control - Bluetooth or WiFi-enabled rollers can be controlled via smartphone/tablet apps.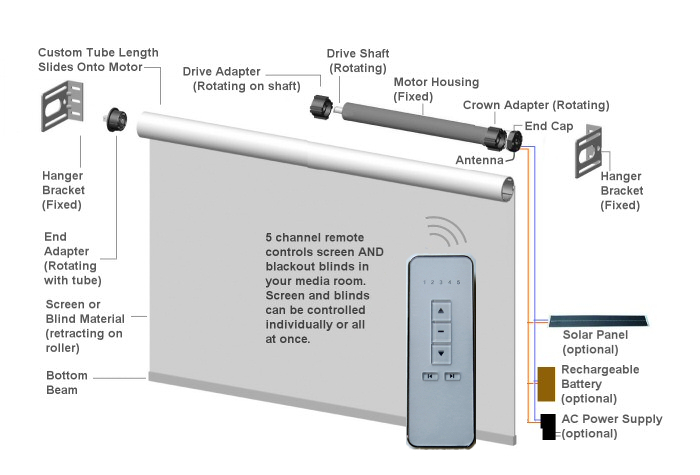 In summary, motorized blinds are automated versions of traditional window shades that allow you to control them with the push of a button, tap of an app, or sound of your voice! Let's look at why motorized shades and blinds are so useful.
Key Benefits of Smart Home Automation & Motorized Shades
There are many great reasons to add motorized blinds or shades to your home or office:
Convenience - With motorized blinds, you can open or close all your blinds and shades with one button push instead of going to each window manually.
Privacy when you want it - Lower blinds for privacy or lift them to let light in - all from your sofa.
Light control - Open and close blinds at set times each day to control how much natural light enters a room.
Energy savings - Automate your blinds to close during hot days or open when it's cooler to regulate temperature and HVAC usage.
Remote access - Operate blinds remotely so it looks like you're home while you're away.
Voice control - Use voice assistants like Alexa or Google Assistant to control your shades with voice commands.
Home automation - Integrate blinds into scenes, schedules, and triggers for true smart functionality.
Child and pet safety - Keep cords out of reach and avoid accidents with automation.
Convenience for mobility issues - Open, close, and adjust blinds effortlessly if mobility is a challenge.
As you can see, motorized shades offer a whole host of benefits beyond just the cool factor. Now let's look at the most common types of automated shades to choose from.
Types of Motorized Smart Blinds and Shade Motors
Many different types of blinds and shades can be motorized. Here are some of the most popular styles:
Roller shades - These tube-rolled shades are one of the most common to motorize because they neatly roll up and down. Materials like blackout fabrics or sheers are available.
Wood and faux wood blinds - Both real and faux wood horizontal slat blinds work well to tilt slats and raise/lower blinds.
Vertical blinds - Vertical blinds, usually made from fabrics or vinyls, can be motorized to rotate individual slats open and closed.
Cellular shades - Cellular honeycomb shades that stack up can be automated to lift up or drop down.
Roman shades - Roman fabric shades with elegant folds look beautiful automated and can be lifted up or lowered down.
Draperies - Rich drapery panels are usually controlled with motorized curtain rods to open and close.
Skylight shades - Difficult-to-reach skylight shades are ideal to motorize for convenience and light control.
Bamboo shades - Natural bamboo slat blinds can be automated to tilt or raise/lower for privacy and light control.
Nearly any type of common blind or shade - from roller shades to wood blinds to drapes - can be motorized with ease. This makes it simple to automate the blinds in your home in a cohesive, attractive way.
Smart Home Integration and Voice Control
One of the best aspects of motorized blinds today is that many are designed to directly integrate with voice control. Popular options include:
Amazon Alexa - Use voice commands to raise, lower, open, close your shades.
Google Home - Control blinds with Google Assistant voice commands.
Apple HomeKit - Operate blinds with Siri or the Home app.
Samsung SmartThings - Connect shades to SmartThings for app and voice control.
IFTTT - Use IFTTT recipes to trigger your blinds.
Hub required - We have a low cost hub that can memorize RF and IR signals (opens in a new tab):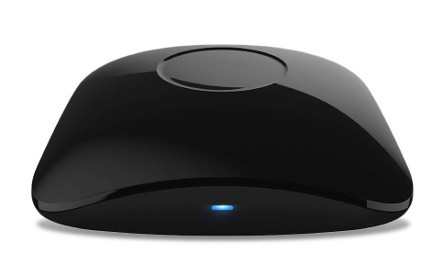 Look for motorized blinds and shades that specifically advertise compatibility with your preferred smart ecosystem for the most seamless experience. Voice controlling your blinds hands-free adds a whole new level of convenience.
Motorized Window Treatment Installation and DIY Options
Motorized shades are relatively easy to install, with a few different options:
Professional installation - Many companies offer professional measuring and installation for a fee. This requires no work on your part for a full-service experience.
Self installation - DIY installation is possible for many systems if you feel comfortable following instructions. Useful for tech savvy homeowners.
Hardwired - Hard-wiring the power into an outlet with an AC to DC adapter is easy.
Battery power - No wiring required. Battery powered motors are very popular for easier installation.
Solar charging - Our solar batteries can recharge themselves to avoid battery changes.
With professional installation or DIY battery-powered systems, it's relatively simple to add automated shades to your windows. Hardwired and outside mount options may require an expert.
Costs for Remote Control Smart Shades
The cost for motorized blinds varies quite a bit depending on the brand, style, size, features, and more. Here are some typical price ranges:
Motorization only - $100 - $300 per window for DIY kits
Simple shades - $200 - $500 per window
Mid-range blinds - $400 - $1000+ per window
High end shades - $1000+ per window for largest sizes and luxury styles
While automated blinds are an investment, incentives like home rebates from power companies may help offset costs. Their convenience and luxury quickly make up for the initial price tag!
FAQ About Motorization and Remote Control Blinds
1. What is motorization of blinds?
Motorization of blinds refer to blinds, shades, or other window treatments that can be controlled using motorization. This allows you to open, close, or adjust them with the push of a button or through a smart home device.
2. How do motorized roller shades work?
Motorized window coverings use a motor to power their movement. This is typically controlled by a remote control or an Android device, allowing you to operate the blinds or shades without any manual effort.
3. What are the benefits of motorized window coverings?
Motorization offers several benefits, including convenience, energy efficiency, and enhanced privacy. They can be easily controlled from anywhere in your home, and you can schedule them to open or close at specific times. Motorization also provides insulation and helps regulate the amount of sunlight entering your space.
4. Can electric blinds be integrated into a smart home system?
Yes, motorization can be integrated into a smart home system. They can be connected to devices such as Amazon Alexa, Google Home, or other compatible smart home systems, allowing you to control them using voice commands or through a mobile app.
5. Does motorization require a professional installation?
In most cases, motorization can be installed by the homeowner without professional assistance. However, if you are unsure or prefer professional installation, it is recommended to consult with a specialist.
6. Are all types of blinds and shades available in motorized versions?
Many types of blinds and shades can be motorized, including roller shades, cellular shades, and even traditional blinds. However, it is best to check with the manufacturer or retailer to ensure that the specific type and style you are interested in are available in motorized versions.
7. Can I control the blinds using my smartphone?
Yes, you can control motorization using your smartphone. Some manufacturers provide dedicated mobile apps that allow you to control the blinds or shades remotely through your phone, providing convenience and flexibility.
Motorhome & Travel Trailer Window Treatments
We also have 12 volt motors for blinds and shades - here is a a dual shade system with blackout blinds and light-filtering, with remote control, kindly supplied by one of our clients:
Final Takeaways on Motorized Blinds and Shades
Motorized blinds make it easy to instantly adjust your window coverings with the push of a button or by simply using your voice. Key takeaways include:
Motors inside tubes provide automated window blinds and shades of nearly any style.
Control them via remotes, wall controls, apps, and voice assistants.
Add convenience, privacy, light control, energy savings, and safety to your home.
Professional installation or DIY battery powered options are available.
While not cheap, incentives can offset costs.
Ready to experience the magic of motorized shades? With the advice in this guide, you can confidently choose and install the perfect automated blinds to take your home to the next level. Never manually adjust blinds again!
Contact Us 24/7
We sincerely hope you enjoyed this article about using these advanced 12v motorized windows, shade blinds, and louvers; if you have any questions, please feel free to contact us at any time!