Rollease Side Guides and Blackout Blinds For Media Rooms
Adrian Biffen, Senior Partner
Note: Our simple remote controls will control these motorized windows, but we have also included this link about Alexa™ motor control. Please see our home theater control article series.
Here is a short 1 minute video from our Youtube channel demonstrating the assembly of the Rollease™ side guides. Please note that our fabricators assemble these for you, with the felt strips inserted in the channels to minimize motor friction. There are also entry guides at one end so that the blackout blind motors will deploy properly:
Light Seal Using Rollease™ Side Guides for Blackout Roller Blinds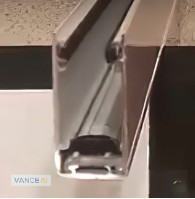 Blackout roller blinds are a popular window treatment option for providing total darkness in a room, making them an ideal choice for bedrooms, home theaters, and other spaces where light control is crucial.
One of the main components that enhance the effectiveness of blackout roller blinds is the side guides light seal. In this article we learn about Rollease™ side guides and how to maintain them for optimal performance.
Side guides, also known as side channels, are additional features attached to the sides of a roller blind to eliminate light gaps between the blind fabric and the window frame. They create a complete blackout effect, ensuring that no light enters the room through the sides of the blind. Apart from enhancing privacy and light control, side guides also improve insulation and reduce noise, contributing to a comfortable living environment.
Rollease™ U-channel side guides have a 2 inch width on either side of a window. These guides are shaped like the letter "U" and are mounted on both sides of the window frame. The roller blind fabric runs within the channels, effectively blocking light from entering through the sides. U-channel side guides are easy to install, but may require regular cleaning to remove dust and debris that may accumulate within the channels.
How to Install Side Guides
Side guides can be installed during the initial installation of the roller blind or retrofitted to an existing setup. If you purchased the side guides from us, they come pre-assembled and cut to size. Here are the general steps for installing side guides:
Measure the window frame width and height, ensuring that the side guides will completely cover the light gaps on both sides (if you purchased the blinds from us, they will automatically be cut to the correct size).
Cut the side guides to the appropriate length based on the measurements taken.
Attach the side guides to the window frame using screws or adhesive, depending the frame material.
If you use screws, purchase some flat head screws, as round heads can interfere with the blind fabric.
When using screws, it is OK to drill holes in the side channels.
Ensure that the roller blind fabric runs smoothly within the side guides when the blind is raised and lowered.
Maintenance of Side Guides
To keep side guides functioning effectively and ensure a lasting blackout effect, regular maintenance is necessary. Follow these simple steps:
The side guides will last for a very long time, but if damaged they may need replacements.
Inspect the side guides for damage or wear, and replace them as needed to maintain an effective light seal.
We sincerely hope you enjoy using these advanced motors; if you have any questions, please feel free to contact us at any time!
Buy The BroadLink™ RF-IR Hub In Our Online Store
If you are interested, you can purchase this hub in our DIY online automation store.