FAQ: Can your x10 blind and shade home automation system be used for irrigation control?
The x10 home automation software (included with the Irrigation Starter Kit) allows you to use your PC to control irrigation zone valves for watering greenhouses, lawns, gardens, indoor plants and anything else (see our x10 irrigation control article).
The x10 irrigation software interface has user friendly switches and timer screens, as shown here. You can program a timer to operate the irrigation zone valves according to your local watering restrictions or as need dictates. You can easily choose the best time of day to water your plants.
You can also turn zone valves, soaker hoses, drip systems and sprinklers on and off simply by clicking on the switches, if you want to over-ride your timers or just operate it manually.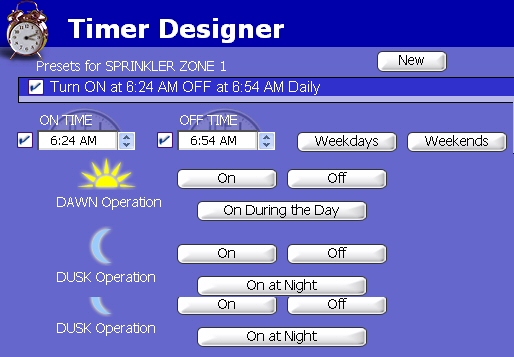 You can easily set up various different control scenarios such as these:
inside plant watering
smartphone remote control
wall mounted touch switches
weather condition triggers
timed operation (shown at right)
motion detection triggers (fountains?)
hand held remote controls
You are also not limited to using it just for irrigation - you can control lighting, blinds & shades, appliances, sound systems, security, and anything else that comes to mind.
We sincerely hope you enjoy using these advanced motors; if you have any questions, please feel free to contact us at any time!