x10 home automation systems (and other brands) can be easily interfaced with our RollerTrol™ irrigation hose valves (shown on left) to control watering with a timer for lawns and gardens.
You may have already discovered how expensive it is to set up a home irrigation system with timers or sensors for watering your lawn or garden.
You may not need anything fancy, just a few ordinary garden hoses fitted to some ordinary garden sprinklers or perforated irrigation drip hoses. You probably want something automatic so that you can go on vacation, and you probably need to set up the weekly schedule to comply with local watering restrictions. You may have a combination of sprinklers, soaker hoses, and indoor drip systems (greenhouse) that you want to automate.
You may also want to precisely control the amount of water used and the best time of the day to do the watering. You might also want to stagger several zones over a few hours so that the pressure (and coverage) is kept at a maximum.
Here's a very cost effective, affordable irrigation system that will do all of that.
The Software:

The x10 home automation software allows you to use your PC to control irrigation zone valves for watering lawns and gardens (and anything else, see our motorized blinds & shades article).
Examples of the user friendly switch and timer screens are shown here; note that you can program a timer to operate the irrigation zone valves according to your local watering restrictions or as need dictates.
This is a very easy to use interface with full drag and drop capability, and you can also turn zone valves, soaker hoses, drip systems and sprinklers on and off simply by clicking on the switches, if you want to over-ride your timers or just operate it manually.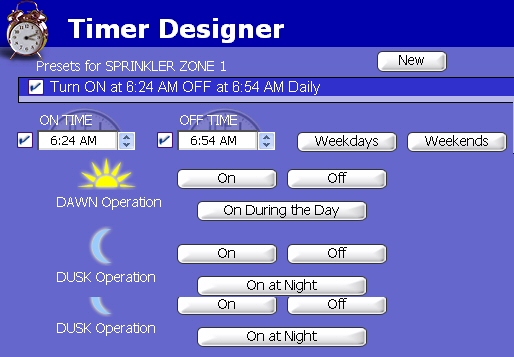 You can easily set up various different control scenarios such as these:
timed operation (shown at right)
motion detection triggers (fountains?)
hand held remote controls
smartphone remote control
wall mounted touch switches
weather condition triggers
You are also not limited to using it just for irrigation - you can control lighting, blinds & shades, appliances, sound systems, security, and anything else that comes to mind.
Irrigation Control Software:
This is the system you need to get started. It includes the PC software and hardware required to set up the initial system for irrigation control. Zone valves and power supplies are purchased separately as required. The low voltage DC power levels are safe for children and adults, and you do not need to be an electrician to install this system: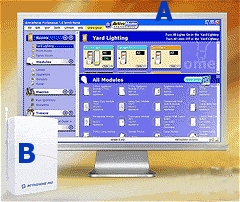 The

ActiveHome Pro Software (A)

runs on your PC and provides user friendly screens for organizing zones and general functions, including timers and sensor reaction procedures. Irrigation control is only a small part of what you can do! You then download your settings via USB to the

microprocessor module (B)

and disconnect when done.

If you stay connected to the microprocessor module, you can also control zone valves

directly from the screen

, anywhere on your property, if you prefer.


The

stand-alone microprocessor module (B)

stores your software settings via USB, and does not require PC to be connected while operating normally. It issues commands over the powerline to control modules plugged in somewhere else in the home AC system. It is typically located near a PC so it can be easily adjusted and re-programmed by the ActiveHome Software (A).


The

stand-alone microprocessor module (B)

also contains a radio receiver that accepts and re-transmits RF commands from radio-type external remote controls, including coffee table and wall mount wireless types (note the receiving antenna on far left of picture). Remote control radio signals travel easily through walls, and

do not require that the remote be aimed

at the device to be controlled.



Irrigation controller relay (C)

with

zone valve (D)

and power supply (not shown) is used for operating 1 watering zone. The relay module is plugged into an AC outlet, and is used to switch the low voltage line from the power supply on and off, which controls the zone valve (which can be anywhere you choose). You would need a relay module for each zone you wish to control. You can also put Y adapters in the water hose line to distribute the water to specific places. The low voltage DC control power is safe for children and adults, and you do not need to be an electrician to install this system.
x10 Irrigation Extender Kit:
This is the kit you need to add another watering zone to your existing irrigation system (buy it in our online store). It includes a zone valve (D) and power supply (not shown) for operating 1 additional watering zone (additional zone valve extender kits are purchased separately as required):
Please note that this can be used for other home automation systems such as Z-Wave®, Zigbee®, Xbee®, Insteon®, Crestron® and Control4®. Any home automation system that has dry contact output (ie relay capability) will work with our product. All it requires is switch closures for ON and OFF. This kit comes with a power supply and 12v valve for controlling a single zone.
We sincerely hope you enjoy using these home automation products. We have been using the x10 products for over 30 years; if you have any questions, please feel free to contact us at any time!