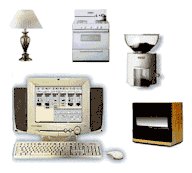 FAQ: What is x10?
X10 is a communications protocol that is used to create the 'smart home'. It allows compatible products to talk to each other by wireless transmissions and the existing 110V electrical wiring in the home. A major benefit is that costly rewiring of your home is unnecessary because you just plug in control modules wherever you need them.
Up to 256 different addresses are available and each device you use usually requires a unique address, but if you want more than one device to respond to the same signal, simply set them to the same address.
In its simplest form, you have 3 elements:
a wireless RF (radio) remote control unit
an RF (radio) remote control receiver plugged into an AC outlet that receives the signals from the remote control and transmits the control signals over the AC house wiring
a control module plugged into an AC outlet that switches motors, appliances and other devices on and off. Dimmer modules are also used for incandescent lighting.
You can start with a very simple system and expand it as desired. You can add PC software at any time to further enhance capabilities with timers, sensors, etc. See our
x10 Starter Kit for Blind and Shade Motors or our x10 Starter Kit for Irrigation and Watering
x10 can be used to control anything you can think of: motorized blinds and shades, irrigation, lighting, heating, security,appliances, etc. You are limited only by your imagination.
We sincerely hope you enjoy using these advanced systems; if you have any questions, please feel free to contact us at any time!