Background: Veralite automation
---
Please Note: This article series was written in 2012 and is here for legacy purposes only; our current focus is on the very affordable BroadLink® hub that can learn RF and IR codes, giving direct control over each blind motor, skylight/window opener, and other devices. It does not require any external interfaces.
---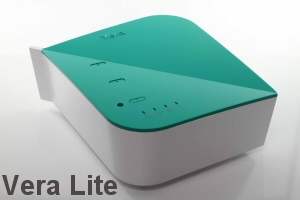 Using the Vera™ home automation controller, and with the help of some very talented engineers and programmers, we have 'future proofed' our blind & shade systems:
Our radio equipped motors use RF (Radio Frequency) for transmission of the remote control signal from a hand-held or wall mounted remote control. These very affordable stand-alone multi-channel systems are extremely easy to install and operate. Our built-in rechargeable battery motors require no wires at all!
With the RFXCOM™ plug-in for Vera™, you can later extend control of your window blind radio motors to your web enabled devices (PC, phone, tablet, etc). VeraLite at $199 is the bargain of the year when it comes to full blown home automation systems - and very user-friendly.
With Vera or Veralite, you can easily monitor and control your home whether you are on the premises or away, and look after the boat down at the dock, that summer cottage at the lake, or that ski chalet in the mountains. You can have the system send email alerts, based on events that you structure yourself with very easy to use wizards.
Unlike many PC based systems, you do not need a dedicated 'always on' computer or laptop. The main difference between Vera and Veralite is that Vera is a complete wifi router, whereas Veralite is an add-on device if you already have a wifi router. You can think of Veralite as a subset of Vera, but they both use the same operating system and they both work the same way.
The Vera system is about choice, budget & flexibility: it can be operated by any web enabled device via the browser (smartphones, tablets, laptops, desktops) and any operating system (Windows®, Apple®, Linux®, B2G, Android®, Tizen®, IOS®, etc). It can also control various different device protocols, such as Z-Wave®, Insteon®, and x10®. It can be customized to support any device with the Lua scripting language, although the built-in user-friendly interface can set up 'scenes' to do almost anything.
Special Note About x10®: Like many others that have been doing home automation for a long time, we have an extensive x10® system that would be very expensive and time consuming to replace all at once. One of the great features of Vera is that it supports x10® via the RFXCOM™ x10 Z-wave interface dongle (see our model HAT-RFX-USB-315 for use in US & Canada), so you can upgrade to Vera and slowly replace your x10® devices with a more robust type, such as Insteon® or Z-Wave®. If you decide to keep all your x10® devices, Vera is still the best way to control your system.
Setting up Veralite™
The picture below is representative of evrything you need to set up your Veralite™ (or Vera™) to control our RollerTrol™ motors. In the picture you can see the Veralite™ unit itself, the RFXCOM USB transceiver, and the RollerTrol™ 8 or 14 channel remote control unit. We have labeled the internal battery and Z-Wave buttons, but those functions are not relevant to these instructions and will not be discussed here.
These instructions also assume that you have assigned at least one of our RollerTrol™ motors to the remote control. The instructions for assigning motors to the remotes will not be discussed here; the instructions in this article cover the installation of Veralite™ and the linking of our motors to Veralite™ via the RFXCOM™ USB transceiver.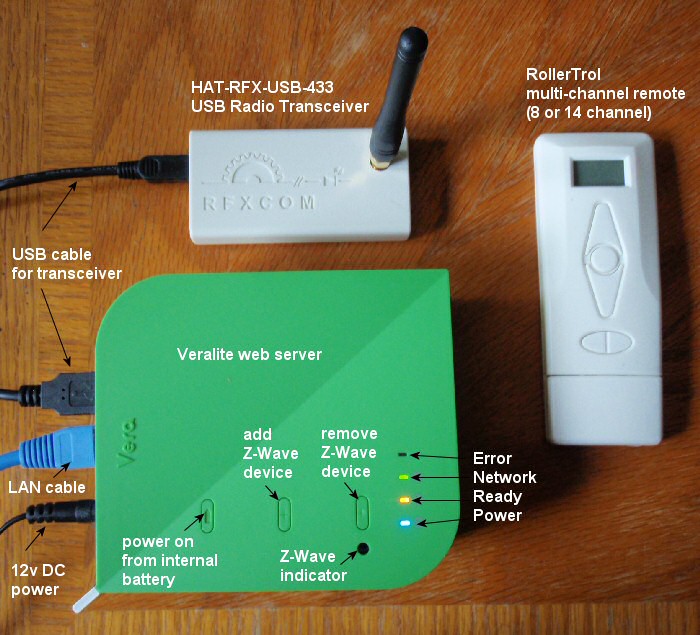 The first step is to plug in the Veralite™ home automation web server. Simply connect a LAN cable to a port on your existing wifi router, connect the RFXCOM USB transceiver to the USB port, and apply power by connecting the provided 12v power supply. Wait for a few minutes until the first 3 lights on the Veralite housing (power, ready, network) are lit. Once these lights are in their active state, the system is ready to use - it's really just that simple.
The next step is to login to your wifi router and find the IP address of your Vera unit. The address for your router will normally be:
http://192.168.1.1/ (click this to try it in a new window)
Note that you may have to set up a username and password for the router admin. If you have not done this before, you'll need to check the router docs or contact the manufacturer (or search the net) for the original default login set by the factory.
Every router admin panel you see after logging in is different for every brand of router, but you should be able to find a menu item that says something like 'list of attached devices' - this will be where you can find the ip address of your Veralite unit (if you have the Vera unit, it IS the wifi router, so no need to find an additional address).
When you click or enter that IP address in your browser and log into the Veralite™ web interface (as per the provided iinstructions), you will be able to follow the easy setup instructions for the RFXCOM™ USB transceiver, which we will cover in the next article. You can bookmark the admin address of both your router and Veralite units.
Here is a screen capture of version 5 of the Veralite admin interface, you should see something similar to this, although the RollerTrol™ shade motor control devices will not yet be showing up. We'll add that functionality in Part 3: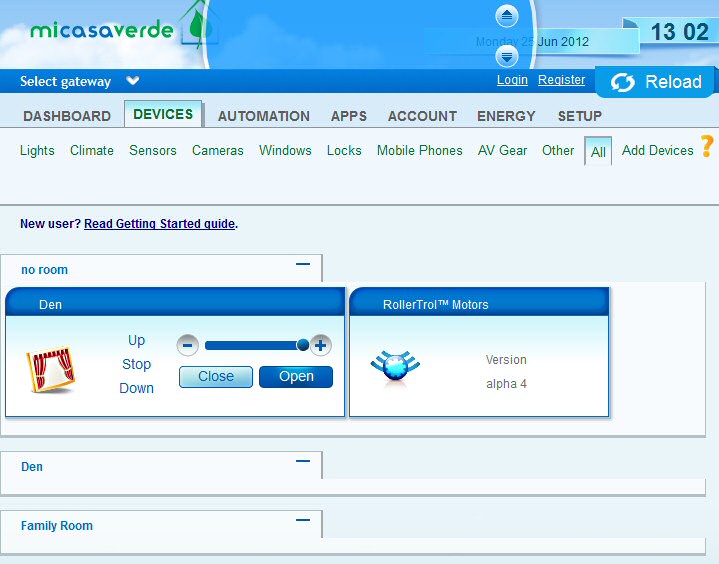 ---
PLEASE NOTE:
The Vera User Interface (UI) has now advanced from UI5 to UI7, and instructions in this article series are for the older UI5 version. We will soon be updating these instructions, and in the meantime, if you have UI7 (green theme) please install the new version of the RFXCOM transceiver plugin. Here is the forum discussion area, and don't hesitate to ask questions there if you need to; these folks are very helpful:
RFXCOM USB transceiver plugin for RollerTrol shades and blind motors
Please have a look at lolodomo's instructions; he is an expert developer, and as he mentions, you have to download and install the ZIP archive here:
RFXCOM USB transceiver plugin download page for RollerTrol blinds and shade motors
There are also additional instructions in this post on the Vera forum:
RollerTrol™ blind and shade motor discussion: Vera UI 7
---
Articles in this series:
Part 1: Vera and VeraLite introduction: web enabled controllers for blinds & shades
Part 2: How to prepare Veralite™ for use with our RollerTrol™ blind motors
Part 3: How to add Rollertrol™ shade and blind control to Veralite & using the USB transceiver
We sincerely hope you enjoy using these advanced motor systems; if you have any questions, please feel free to contact us at any time!