These instructions apply to any of the K series remote control skylight/window opener starter kits (or any custom package), which can include the following:
Wireless RF Remote Controls:
-DCGQ-5H-RF (5 ch)
-DCGQ-15H-RF (15 ch)
-DCGQ-1W-RF (1 ch wall)
-DCGQ-2W-RF (2 ch wall)
-DCGQ-5W-RF (5 ch wall)
Window/Skylight Motorized Kit Openers:
Window Opener Kit 1: WT12v-RX RF remote control window/vent opener (20 lb lift)
Skylight Opener Kit 4: WT12v-RR-HD remote control skylight opener (60+ lb lift)
Slider Opener Kit 5: WDS12v-R remote control slider window opener (40+ lb lift)
Power Supply: 12v AC/DC power supply (110/240v 50/60 Hz, 4 amp or 8 amp)
Please Note: it is always a good idea to set this up on a table first to test the operation
---
1. The Standard 5 Channel Hand Held Remote (DCGQ-5H-RF):
Please Note: If you have the 15 ch version or the wall version it is very similar in operation.
There is a hole in the back of the remote with a button inside it (the cover does not need to be removed; please familiarize yourself with the location of this switch, it is used to confirm channel assignments and other programming actions. It is referred as P2 in the instructions.
This switch also has tactile feedback, and you do not need to press very hard. Try to use something that is rounded and slightly smaller than the hole as it is possible to miss the switch entirely if you use a pointed object.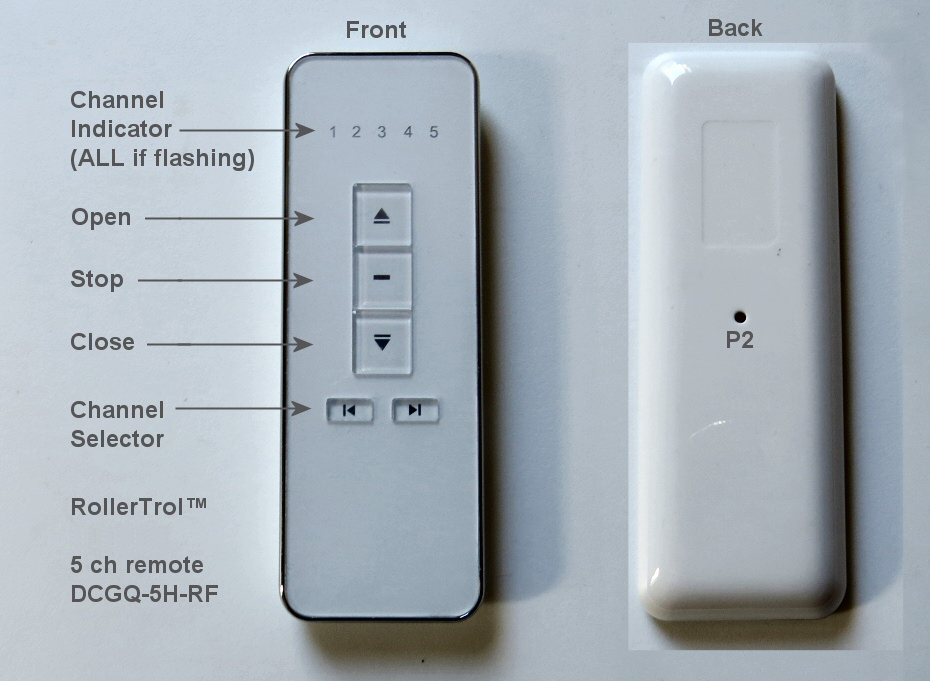 There are up / stop / down buttons and channel selector buttons as per the above picture.
You can slide the back cover off the remote control to replace the battery, but these units come with batteries installed and last for years. A slight downward pressure with your thumbs at the top while you slide it off is all that is required.
After removing this cover, you will see the battery compartment at the bottom of the remote. If the button battery is not installed, insert it now. Please pay attention to the battery polarity. The battery has a large plus + sign on one side - this should be facing up, towards you.
Our radio control system is very flexible, here are some notable features:
Our mult-channel remote controls have up to 15 separate channels + an ALL channel
Assign individual channel control to each window opener controller AND group them on a different channel
Assign motors and other 12v devices to different remotes for multiple control points (receivers can hold up to 20 channel assignments)
The digital control signal is very strong and can usually reach anywhere in a typical home, passing through walls and floors
If you have more than one window opener you can gang the window openers together, connecting them in parallel to create a group that can be controlled simultaneously.
2. Two Different Types of Actuators - Chain vs Threaded Screw

You may have one of our threaded screw type actuators for horizontal/vertical slider windows, or you may have one of our "direct push" chain actuators for a skylight or window opener. Either way, the window (or skylight) opener requires 12v DC to power it.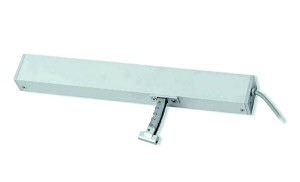 Either type of 12v actuator is the actual window/skylight opening device that will be controlled by the internal receiver module.
These actuators exerts a force in any direction and can be used in many different ways - awning windows, slider windows, skylights - anything that needs to be moved.
However, we always recommend that you set the system up first on a table so that you can become comfortable with the operation and programming procedures.
3. Connecting Power to the RollerTrol™ Motor Control Receiver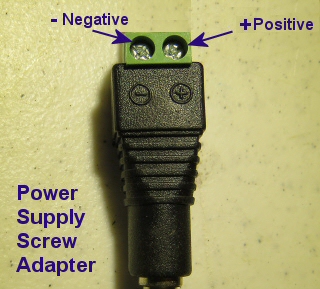 Our 12v power supply that comes with the equipment has a screw adapter on the end to facilitate easy connections.
It is important to observe polarity (negative and positive screw terminals, as seen in this picture) when connecting the 2 receiver wires to the power supply adapter screw terminals. Red (or brown) is positive (+), blue is negative ground (-).
Lamp cord or heavy duty speaker wire works well as wiring for the system, and it is usually available in different colors that can match your decor.
If you want to insert an extender cable so that the power supply is further down the line, that is not a problem. A higher up location can often improve reception, but these remote controls will reach anywhere in a typical home.
You will need a small Philips screwdriver to tighten the screw terminals.
You can use the white spring loaded terminal connectors we provide for any other wire connections (provided as a convenience).
4. Assigning A Channel On the Remote to the Window/Skylight Opener
We are using the chain type housing to show where the setting button and confirmation LED are located, but the threaded screw actuators are very similar (located in the housing end).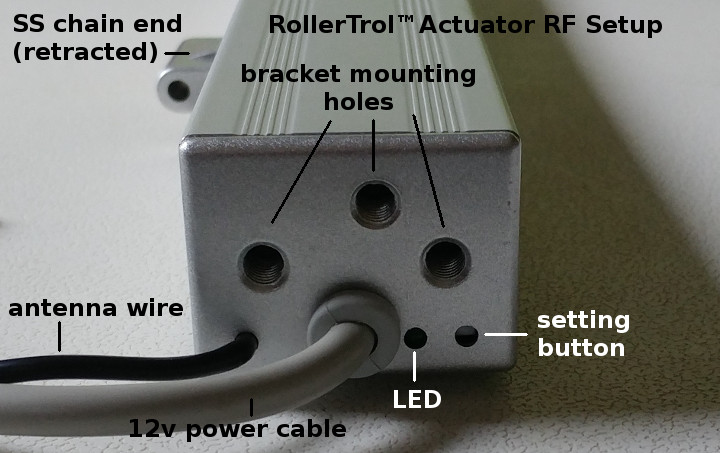 1. Set the channel on the 5 channel remote to the one you want to use.
2. Press and release the setting button on the housing; the LED will light up, until you release the setting button.
3. Press and release the P2 button on the back of the remote. The LED will blink twice to confirm that the channel is set.
The remote control will now be programmed and you should be able to operate it with the remote control.
If you want to clear the memory inside the actuator, hold down the setting button until the light goes out.
5. Installation Tips for the Chain Type Opener
Caution: these actuators have more than enough power to injure hands/fingers/paws of children, adults and pets, so please don't use it where it can be reached easily.
The chain housing is typically mounted on the window sill, and the end of the chain has a special adapter that attaches to the sash frame, allowing for rotation, if required (awning window applications are a good example).
The actuator housing has 3 holes in either end, one of which you will select to suit your particular application (the choice is designed to provide mounting flexibility).
The mounting bracket comes with special bolts that allow it to be fastened securely, yet swivel if the application requires it.
Awning windows are again a good example as the window opener housing has to be able to track the arc of the window sash as it is opened and closed. The chain forms a semi-rigid rod as it emerges from the housing, and simply pushes the window open.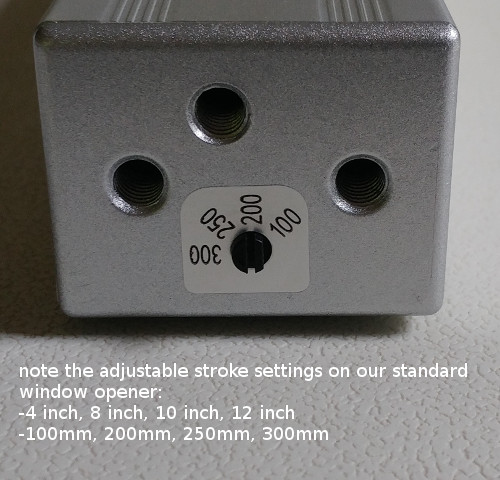 If you have the 20 lb version, it has an adjustable stroke.
If you do not want it to open to the full 12" (300 mm) stroke, you can simply adjust the stroke by turning the knob at one end.
The stroke can be set for 4 inch (100mm), 8 inch (200mm), 10 inch (250mm) or 12 inches (300mm) of travel.
If you have the 60+ lb version, it has a load sensing circuit inside that will detect obstructions that cause it to exceed the 60+ lb force, and it will stop automatically if this happens.
If you do not want it to open to the full 12" (300 mm) stroke, you can purposely set up an obstruction to make it stop where you want.
You can also order a custom chain length, if you do not want it to open the full 12 inches.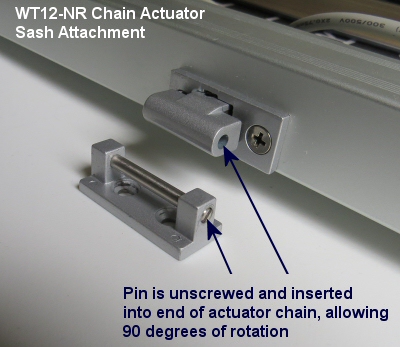 Here's a set of pictures kindly provided by one of our customers, showing some details of his installation:
motorized awning window opener installation detail pictures
Here's an example of these actuators used to replace worn out Velux™ skylight motors:
Velux™ skylight motor replacement
Here's an example of horizontal and vertical sliders (single hung) using Pella® fiberglass windows:
motors for window openers: horizontal and vertical sliders (single hung)
We sincerely hope you enjoy using these advanced systems; if you have any questions, please feel free to contact us at any time!