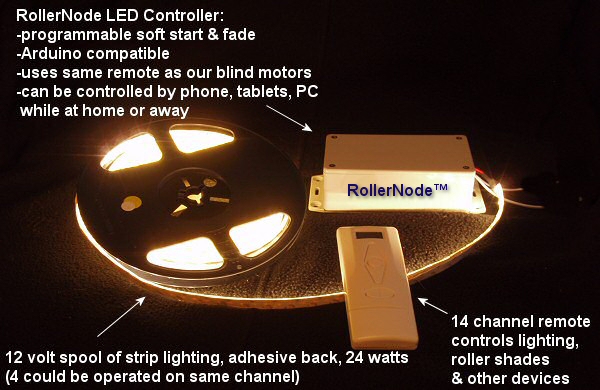 NodeSwitch™ LED, Relay & DC Motor Controller: Background
Please Note: This page is here for legacy purposes only. This equipment has been replaced by our new educational ESP32 Micropython kit, with a programmable low voltage relay module that has almost unlimited capabilities.
The NodeSwitch™ RN-12v-10w-0 unit is an Arduino compatible RF remote control LED companion controller for our radio equipped drapery, shade and blind motors. The optional MiniMight™ reversing motor controller can be used to operate other devices that have a reversible 12v DC motor, such as our motorized window and skylight openers.
As previously discussed (see article series links at bottom), the NodeSwitch™ controller can be easily re-programmed to behave in different ways, according to your needs, simply by sending a text file through the USB port of your PC to the Arduino microrocessor onboard the NodeSwitch™ unit.
In Part 5 we explored the code structure of the Arduino system. In this article, we will take a look at the jumper locations that can be used to control the various modes of operation: program flow (J5, J6), "auto-off" vs "always on" (J2), motor & relay control (J1, J3, J4), and PWM output (LED lighting).
The NodeSwitch™ controller (with on-board Arduino) is available in our online store
Identifying the Jumper Locations
All the jumpers have 3 poles (pins) except J2. Here is a photograph of the motherboard showing the jumper locations:
J2 has 2 possibilities (either on or off), in the picture above, it is shown in the 'auto-off' position. To operate the board in 'always on' position, please move it 'one hop' to the right so that the 2 pins closest to the end are connected.
all the others have 3 possible modes (pins 1-2 on or pins 2-3 on, or none connected).
In the picture above, the jumper blocks are only half connected on an outside pin, with 2 pins bare, which is the same as not having them there at all (it's just a way of keeping them handy).
Program Flow Control: Jumpers J4, J5
The picture below is a close-up of jumpers J4 and J5, showing how the jumper blocks connect 2 pins together.
These jumper settings can be detected by the Arduino microprocessor, and you can use conditional branching code structures to make the program execute different procedures, depending on the jumper settings.
In the next article, we'll look at how these can affect program execution..
The NodeSwitch™ controller is available in our online store
NodeSwitch™ Instructions Index:
Part 1: LED/Motor Controller: Introduction
Part 2: LED/Motor/Relay Controller: Basic Operation
Part 3: LED/Motor/Relay Controller: Advanced Operation: Installing Arduino IDE Editor
Part 4: LED/Motor/Relay Controller: Advanced Operation: Arduino Programming System
Part 5: LED/Motor/Relay Controller: Advanced Operation: Program Code Structure
Part 6: LED/Motor/Relay Controller: Advanced Operation: Jumper Locations (you are here)
Part 7: LED/Motor/Relay Controller: Advanced Operation: Control Program Flow
Additional Resources:
Window Opener & Skylight Opener: Operating and Connection Info for our Chain Actuators
We sincerely hope you enjoy using these advanced motors; if you have any questions, please feel free to contact us at any time!