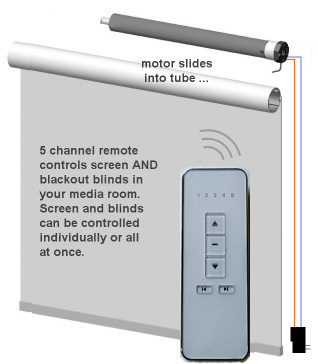 FAQ: Do you sell motorized blinds, shades, drapes in Regina?
Our Regina regional office sells motorized blinds and shades (and motors for curtains, drapery and window/skylight openers) all across Canada, including Saskatchewan: Regina, Saskatoon, Estevan, Moose Jaw, North Battleford, Prince Albert, Swift Current, Weyburn, Yorkton, etc.
You can call on our experienced blinds and shades installation team to install complete shade and drapery systems for you, or you can buy just the motors and do it yourself (DIY). We also have remote control window and skylight openers, and LED lighting systems.
Our radio equipped remote control motors use Radio Frequency (RF) to transmit the control signal. A small antenna in the motor receives the signals and a microprocessor decodes the signals to activate the motor. This system is different from the infrared signal (IR) used on most TV sets. Unlike infrared, the RF signal is not directional - you do not have to point the remote at the roller blinds or shades.
The radio signal is also capable of passing through walls and can reach anywhere inside a typical home. Our multi-channel remotes have up to 14 channels that can be programmed to control blind motors in various different rooms and hallways throughout the house. Multiple blinds can be assigned to a single channel, and multiple remotes can be assigned to a single blind.
Future Proofed Systems Can be Controlled Over the Internet
Our remote control system can be extended at any time with our Z-wave interface and Vera wifi module. Control your shades, drapes, lighting and window openers from your phone, tablet or PC. Do it at home, or from any remote location over the Internet:
control your window shades, blinds, drapes, window & skylight openers over the Internet
For more info, see our multi-channel RF remote control products. We also have sun sensors and timers to control blinds and shades anywhere in a typical home.
multi-channel RF remote controls for blind and shade motors
We sincerely hope you enjoy using these advanced motors; if you have any questions, please feel free to contact us at any time!