These instructions apply to any of the window/skylight openers.
Please Note: it is always a good idea to set this up on a table first to test the operation
---
1. Introduction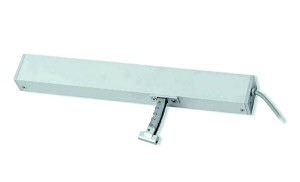 We have various 12v window/skylight chain openers (depending on lift capacity) that can be controlled by RF multi-channel remotes or simple switches.
They use the same special mounting brackets that allow the housing to track the arc of window and skylight openers.
We always recommend that you set the system up first on a table so that you can become comfortable with the operation and programming procedures.
Caution: this actuator has more than enough power to injure hands/fingers/paws of children, adults and pets, so please don't use it where it can be reached easily, without some kind of barrier to prevent mishaps.
Bug screens are typically used, with a hole cut out for the actuator chain, with horsehair protecting the cut-out from insect intrusion.
2. The Chain Pushes The Window/Skylight Open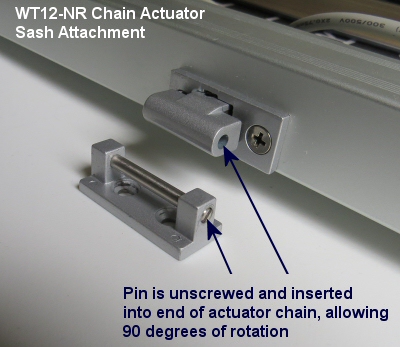 For window openers, the chain housing is typically mounted on the window sill.
The end of the chain has a special adapter that attaches to the sash frame, allowing for rotation, if required (awning window applications are a good example).
The pin is unscrewed from the sash bracket and inserted in the "nose piece" of the chain, then the sash bracket can be bolted or screwed to the window sash.
For skylight openers, the setup is similar, but typically the actuator is rotated 90 degrees to push (and open) the skylight.
Our 20 lb (9 kg) opener is only rated to lift very small skylights; we normally use our 60+ lb (27+ kg) HD (heavy duty) opener for heavy skylights.
You can test the force required to open a skylight by standing on a bathroom scale and pushing the skylight open with a long pole (you may have to release any mechanism that is used to open the skylight).
If you look at this picture of the mounting bracket, you'll see the extra large hole that allows the mounting bolts to rotate and track the arc of the window or skylight opening, with with special bolts that allow it to be fastened securely, yet swivel if the application requires it.
The actuator housing has 3 holes in either end, one of which you will select to suit your particular application (the choice is designed to provide mounting flexibility).
If you have a very short chain excursion, you may be able to anchor the actuator in a fixed position, but we don't recommend this because the chain can jam part way.
Awning windows are again a good example as the window opener housing has to be able to track the arc of the window sash as it is opened and closed. The chain forms a semi-rigid rod as it emerges from the housing, and simply pushes the window open.
It has a load sensing circuit inside that will detect obstructions that cause it to exceed the 14 lb force, and it will stop automatically if this happens. These actuators have an adjustable stroke: 4" (100mm), 8" (200mm), 10" (250mm), 12" (300mm), and these units work well with motorized awning windows because most of the weight is supported by the hinges.
Here's a set of pictures kindly provided by one of our customers, showing some details of his installation:
motorized awning window opener installation detail pictures
Here's an example of these actuators used to replace worn out Velux™ skylight motors:
Velux™ skylight motor replacement
Here's an example of horizontal and vertical sliders (single hung) using Pella® fiberglass windows:
motors for window openers: horizontal and vertical sliders (single hung)
3. Threaded Screw Openers for STICKY Vertical Sliders
We also have special threaded screw actuators for "very sticky" vertical sliders. These can also be "mirrored" so that they can be placed on either side of the vertical slider. These units are rated at 40 lb. lift capacity.
As an alternative, you could use our 60+ lb (27+ kg) chain actuator to push up and open it, if you don't mind the chain in the middle of the window opening.
---
We sincerely hope you enjoy using these advanced systems; if you have any questions, please feel free to contact us at any time!