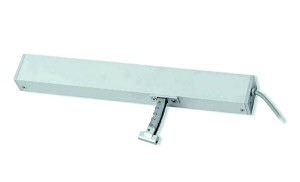 Although they do not have built-in batteries, our 12v window openers can be battery powered with an external 12v battery with a trickle charger and/or solar panel. They use the same safe, low voltage technology as our blind and shade motors to open and close your windows, and they are also available with wireless remote control.
The flex chain simply emerges from the housing in a straight line and pushes the window open, and it is easy to adapt these chain drive units to most types of windows. The stroke is also adjustable: 4" (100mm), 8" (200mm), 10" (250mm), 12" (300mm).

We also manufacture a slimline external battery wand for 12v DC motors, if you need battery power for your blinds. These are high capacity, USB rechargeable batteries rated for for 240 open/close cycles (tested continuously).
Also, the battery wands do not have to be near the motor if you use 16 guage lamp cord to position them somewhere else, to facilitate easy charging.
These battery wands use any USB adapter to re-charge the internal batteries after many months of use, and the battery wand comes with a standard USB cable for recharging.
PLEASE NOTE: The USB charger for the external battery can be left plugged in because it has a proper charge controller that prevents over-charging. This gives you the ability to have a very good backup system if you live in an area that has a lot of grid power interruptions. Your blinds will continue to work, even if the grid power is down (running on battery).
When the battery finally wears out, you can replace the battery, saving the cost of the motor. These external batteries can be used with any of our tubular 12v motors.
You can see our window openers online in our store (opens in a new browser window).
It should be noted that window and skylight openers can be dangerous to children and adults as they normally have a considerable amount of force that is used to draw the window closed and provide security. There is more than enough force to crush fingers of small children and/or cause injury to adults, pets, or other animals.
For skylights and other applications, you can use our standard series 12 volt electric window opener for controlling vents, large windows, shutters and any other item you would like to move with a motorized actuator. It can be controlled by a simple switch, or with our optional remote controls. The unit can exert a push/pull force of approximately 20 lbs before the obstruction sensor will stop it.
The linear chain actuator pushes straight out from the fixed housing which lines up unobtrusively with your window frame, fastened in place with mounting screws. Attach the end of the chain actuator to the window with two screws and you're done!
Use it to control the motion of anything you want, including windows, greenhouse vents, etc. The internal electronics provide motor overload cutoff and travel limit stops.
These can also be used with any z-wave hub; for more information, please see our sister website (opens in a new browser tab).
Care should be exercised when these units are installed where adults or children could get fingers caught in a closing window - serious injury could result. Use of insect screens can help eliminate this possibility.
We sincerely hope you enjoy using these advanced motors; if you have any questions, please feel free to contact us at any time!