12v Awning Window Motors - How We Do Load Testing
Adrian Biffen, Senior Partner
Please Note: You can also control these window motors with our simple remote controls, but we have included this link about Alexa™ motor control. It assumes you have already set up your BroadLink hub (see home theater control article series).
Here is a 1 minute video from our Youtube channel demonstrating our 12v load testing, whether for awning window chain motors, or particular sticky single hung and double hung windows:
What is load testing?
Load testing is the process of applying controlled and measurable loads to a component or system to determine how it will perform under normal operating conditions.
In the case of awning window motors, load testing involves applying various weights and forces to the motor to determine its capacity to operate the window.
How is load testing performed?
Load testing of awning window motors typically involves attaching a weight to the window and measuring the force required to open and close it.
This process is repeated with various weights to determine the motor's capacity to operate the window under different loads. The results are then analyzed to ensure that the motor meets the required specifications.
Conclusion
Load testing of awning window motors is an important step in the manufacturing and installation process. It ensures that the motor is capable of operating the window under normal operating conditions and will not fail prematurely.
Single-hung and Double-hung Slider Motors: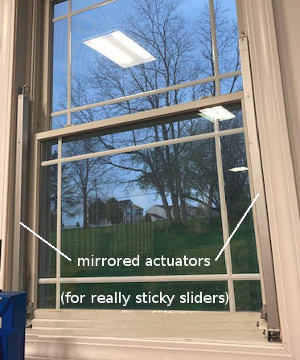 Our 'Slider' motors require a custom opening distance (stroke), and the stroke can be set when there is a requirement for ADA compatible motors. In either case, a discussion with your account manager would be appropriate.
Our mirrored sliders for sticky or stuck windows are always manufactured to spec, but you may only need a single slider on one side, if your window moves easily.
Our chain type actuators (the type seen in the video above) are inventory items, unlike the 'Sliders', which always require a custom stroke that is fabricated in the factory. We have them with and without remote control; here is the link to the remote control SLIDER KIT:
You can also buy stand-alone window motors for multiple windows, and you can parallel the wiring to power more openers. Your 12v power supply should have enough amperage (ask us to ask about this).
We sincerely hope you enjoy using these advanced motors; if you have any questions, please feel free to contact us at any time!
Buy The BroadLink™ RF-IR Hub In Our Online Store
If you are interested, you can purchase this hub in our DIY online automation store.