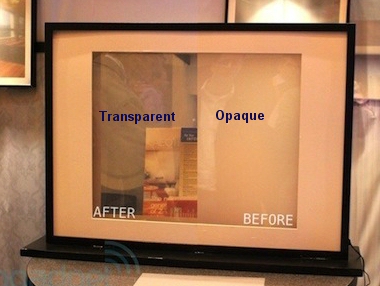 FAQ: Window film with wifi control - do you have electrically controlled stick-on window film?
---
If you have ever wanted a method of affordable electrical control of glass window transparency, our new stick-on film may be just what you're looking for. We now have a smart film evaluation kit for those of you interested in testing this new material.
Simply cut it to whatever shape you need, apply it to your glass window or partition, and connect the wires - presto, you can now adjust the opacity of the window by electronic remote control.
We are now offering this material for sale, pre-cut to size with electrodes installed. Please see our ElectricWindowGlassFilm.com website for pricing and detailed information. It operates on 12v DC (great for cars, boats, motorhomes, travel trailers, etc.), and we also have power supplies that plug into a regular AC outlet.
There have been some exotic types of dichroic and electrochromic 'smart glass' made that can have the opacity controlled by applying a DC voltage, but these have been very expensive and the cost of retrofitting glass windows or partitions has been very high. Now there is an affordable new solution that anyone can easily apply (DIY).
Solar shade film has also been in use for many years, but it has a fixed transparency, whereas this glass film material can be adjusted from its transparent state to its blacked out state simply by the flick of a switch.
This system is compatible with all our remote control systems, including the ability to extend control to your phone, tablet, or PC using wifi and the internet.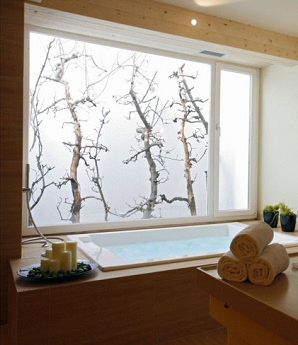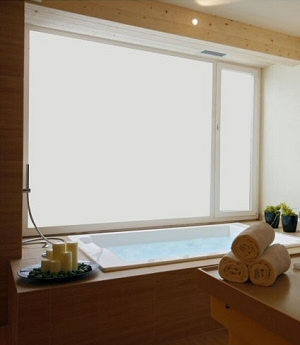 This special glass film is designed to be user friendly and cost effective. It is manufactured with a self-adhesive cling layer on one side (peel and stick) which can be cut to any size and retro-fitted to any existing window or glass partition without the need for specialized installation or complicated equipment. Once it has been applied to the glass, just connect the Wi-Fi enabled controller (or ordinary switch) to the film and turn it on.
The installation can be summarized as an easy 3 step process:
Measure twice, cut once.
Peel and stick.
Plug and play.
We think this is one of the most exciting window treatment technologies to emerge in a long time; please stay tuned to this page for product release information, coming soon.
At the current state of development, it's not entirely see-through when it's in the transparent mode (7% haze), and it doesn't block 100% of the light in opaque mode, but it is still a very useful material that will only improve with time. It consumes 5 watts per square metre when switched on to full transparent mode (blocked opaque mode uses no power). Voltage can be adjusted for varying degrees of transparency.
Please see our online store for our smart film evaluation kit.
We sincerely hope you enjoy using these advanced technology systems and motors; if you have any questions, please feel free to contact us at any time!