How to Set Up a Home Theater System
and Get The Room Back When Finished
---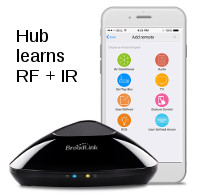 We are starting an article series on this topic; please use this form to opt-in with your email address if you would like to be on our mailing list as we release each article.
We did not want to have a dedicated media room, so we decided to convert our comfortable great room into a home theater for watching Netflix®, Blu-ray Disc®, and other streaming sources. Our system deploys a large screen projection system, with a powerful 8 channel Dolby® surround sound system.
When not in use, the blackout blinds on the windows and the large theater screen retract, restoring the room to normal use for family and guests.
---
We also use this system for presentation of business proposals and staff training as it is a great way for people to sit comfortably and watch the big screen, instead of trying to cluster around a small video monitor. It can be quite a dramatic and impressive demonstration to show your guests how the room is quickly converted into a theater at the touch of a button (or voice command).
We'll be covering all aspects of our system - including the room darkening motorized blackout blinds, the projector and screen, the 8 channel sound system, etc.
Whether you arrived on this page from our Custom Motorized Blind & Shade Website or our DIY motorized blind and shade website, or from one of our affiliates, please feel free to subscribe to this article series ... and thanks for looking!