If you look at our testimonials page, you may have seen that we have thousands of satisfied customers. We wanted to show our appreciation for many of you that have helped create our successful business, so we have launched an affiliate program that pays a commission for sales generated when you refer someone.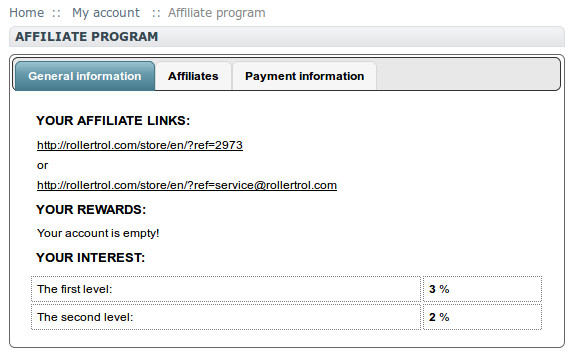 When you purchase a product and create an account on our system, you automatically become an eligible affiliate.
When you login to your account, you'll see the "MY ACCOUNT" header, with a list of links pertaining to your account.
You'll see the "Affiliate program" menu item link that will provide your private affiliate link; when you click on that link you will see this picture, with your personalized affiliate referral link.
Please click on the "Payment" tab to enter your Paypal email address.
Please use this link in your email messages, social media posts, blog posts, etc.
Any sales generated from someone using your link to enter our website shopping cart will generate a 3% commission that will be paid directly to you.
Here is an example link that would take your visitor to our Motorized Blind DIY Kits:
http://RollerTrol.com/store/en/88-diy-blind-shade-motor-kits?ref=xxx
Here is another example link that would take your visitor to our Motorized Window Opener DIY Kits:
http://RollerTrol.com/store/en/71-window-openers?ref=xxx
Here is another example link that would take your visitor to our Automation Systems section:
http://RollerTrol.com/store/en/31-home-control-systems?ref=xxx
You can direct your visitors to any particular page on the shopping cart, and any purchase they make will be duly recorded and attributed to you (don't forget to use your affiliate code number in place of the xxx).
Affiliate Program Details:
This is a "two tier" affiliate program, which means you can make money on your client referrals, WHEN THEY BECOME AN AFFILIATE.
A new client automatically becomes an affiliate, so your first purchase would make you a Tier 1 Primary Affiliate.
Tier 1 Affiliates:
You would then use your assigned affiliate link in your web pages, social media, emails, etc. to drive traffic to our website. Any sale derived from that Tier 1 Primary Affiliate referral entitles you to a 3% commission on that sale.
Tier 2 Affiliates:
If a new customer generated by your Tier 1 sales decides to also become an active affiliate, you will get an additional 2% of their sales generated by their assigned affiliate link. This would make them your Tier 2 Secondary Affiliate.
Payment:
The affiliate link is shown when you login to your account, see 'Affilate Program'. Tier 1 and Tier 2 commissions are calculated on net invoice value, after discount, not including taxes or shipping. Commissions are paid out by Paypal when the total reaches $US 100.
Sales Tracking:
When a visitor enters website with affiliate link parameter (eg. ref=3552) this entry link parameter is written to cookies for storage. When this visitor clicks another link in the shop, they will not see the ref=3552 in the URL, but the tracking continues due to the stored cookie.
Also, if they do not register in the shop and go away, the cookies still work, and if (during cookie lifetime of 480 hours) they again return to the store with direct link (not affiliate), and they register and buy, they still bring commisions to ref=3552, which is the original affiliate parameter that was passed to the system on their original visit.