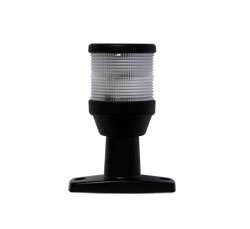 FAQ: Anchor lights - can they automatically turn on at night?
Yes, anchor lights (and any other light) can be made to sense the night time and turn on with a photocell. This 12 volt kit is supplied with a marine grade day/night anchor light sensor switch that is sealed in a weatherproof epoxy filled housing. It has an extremely low standby draw of 0.00015 A and a high power handling capability (200 watts) that can be used to power other devices.
You can purchase this night time auto-sensing anchor light kit in our online store.
The very bright LED lamp easily exceeds the Coast Guard standard of 2 nautical miles, yet it only consumes a mere 2.4 watts (200 mA). The LED lamp also has a built in constant-current driver to maintain a very long service life.
Day/Night light sensor features:
extremely low standby consumption: 0.00015 A (0.15 mA)
sealed epoxy casing, fully waterproof
very small, 1" x 1" x 1"
high capacity: handles up to 120 watts (10 a) @ 12v DC
use with relay for heavier loads
works with LED, incandescent, or fluorescent
fixed light sensitivity threshold
simple to connect
on/off indicator status light
We sincerely hope you enjoy using these advanced LED lighting systems; if you have any questions, please feel free to contact us at any time!