WELCOME TO the RollerTrol™ STORE!
Your online source for safe, low voltage DIY DC motors and control systems equipment:
-Tubular Motors for Blinds, Shades & Projector Screens
-Complete Home Automation Systems
---
Click here to see all our motors on 1 page
The best way to explore our products is by clicking on the expanding Categories menu on the left. You can add a product to your shopping cart at any time and keep track of the total cost; there is no obligation to buy anything.
If you just want to ask a question, CONTACT US HERE, we'll respond quickly.
---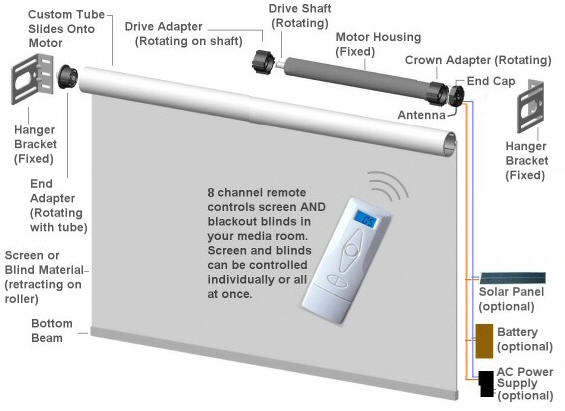 ---
Our motors are designated by drive size, lift capacity, and control options:
Drive size: .75" (18 mm), 1.37" (35 mm), 1.75" (45 mm)
Lift capacities:
4 lb (1.8 kg), 6 lb (2.7 kg), 10 lb (4.5 kg), 12 lb (5.5 kg), 48 lb (22 kg)

Control options:
-With built-in radio: use our multi-channel remotes (very simple, picture above)
-With built-in radio: use our web enabled home system (use phone, tablet, PC)
-No built-in radio: use PC software, our external remote, or your own system
---
All our DC motors operate on safe 12v DC and can be configured for 24v operation by special order
Tubular Motor Comparison Table:
Battery Series: (built-in rechargeable LiPo battery with solar panel option)
Our high quality whisper quiet RollerTrol™ DC tubular roller motors are precision engineered to exacting standards, with state-of-the-art remote control systems.

Our unique motors with built-in radio receivers can be operated individually or ALL together, if you prefer, by one multi-channel remote (or more).

These motors are perfect for motorizing window or skylight blinds and shades, mini blinds, projector screens, conveyers or any application where you need a rotating tube.

Our 12v DC motors can be used almost anywhere - in the home, in cars, boats, motorhomes, travel trailers and summer cottages. Small rechargeable batteries provide backup power and can be solar powered for a totally wireless installation.