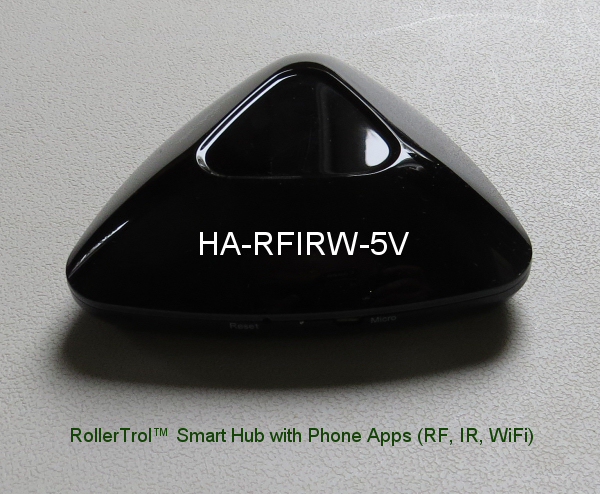 Looking for the best home automation systems for motorized blinds and other devices?
With the explosion of the IoT (Internet of Things) industry, there are many new home controllers available. In this article we are attempting to give you some insight to help you choose the best solution, especially if you want to control our shade and blind motors, skylight/window openers, smart film, drapery motors, etc.
The following list is not by any means complete, nor is it in any particular order, although we favour the new RT Hub from BroadLink®. It is a snap to implement, very affordable, and can control our radio motors and other device relays directly, without any intermediate interface equipment.
Our high quality RollerTrol™ DC tubular motors for motorized shades and blinds with state-of-the-art remote control systems are precision engineered, safe for children and adults, and easy to install (see our battery operated motors).
These motors are perfect for making custom remote control window blinds (with optional LED room lighting control), sun shades, skylight shades, solar shades, night shades, projector screens, awnings, actuators, banners, flags or any application where you need a rotating tube. Our RF-433 external stand-alone receivers will also control many other DC devices, such as fans, LED lighting, etc.
Please Note: Our blind motors, window openers and other devices are operated with wall mount and hand held controls, and our system is designed to allow automation to be added at any time. This means you can start with our simple remote controls and add the automation later, and take your time with it. Our remote controls will continue to function while you build your automation system and will also continue to function after the automation is activated.
System
Platform
RollerTrol™ Motor
Connectivity Options
Open
Source
Cloud
Required
Cloud
Optional
User
Control
RT Hub (Phone App for blind motors)
Anroid, IOS
WiFi, IR,
RF 433/315 MHz
(direct transmission)
partial (SDK)
no
yes
auto-install app
(Android/IOS)
OpenNetHome
Linux (Raspberry Pi)
Windows
Mac
RF 433 MHz1
Dry Contact Relay3
yes (free)
no
yes
Browser or
custom app
Domoticz
Linux (Raspberry Pi)
Windows
RF 433 MHz2
Z-Wave3
Dry Contact Relay3
yes
(payment by donation)
no
yes
Browser or
custom app
Vera
Proprietary
RF 433 MHz2
Z-Wave (native)3
partial
no
yes
Browser or app
Homeseer
Proprietary
RF 433 MHz2
Z-Wave3
Dry Contact Relay3
partial
no
yes
Browser or app
SmartThings
Proprietary
Z-Wave (native)3
partial
yes
no
Android or iOS smartphone app only
1
use
Jeelink Classic USB dongle w/ 433 MHz, RFM12B chip.
(controls all our motors and stand-alone receivers)
2
use
RFXCOM USB transceiver
(NOTE: controls older R series motors only)
3
requires additional Z-Wave
®
USB dongle and/or group transmitter system
What our customers are saying:
♦ "Doing the blind myself with your motor ... cost me $240.00 ... I saved $600" - DH, Edmonton, Alberta
♦ "Thank you for an impeccable service! Wish everyone would work like you!" - JC, Miami, Florida
♦ "Great product, exceptionally quick delivery" - PV, New South Wales
♦ "Great seller, fast communication and shipping, highly recommend, thank you" - RS, Verdun, Quebec
Tubular Motor Comparison Matrix: (*key specifications in yellow)