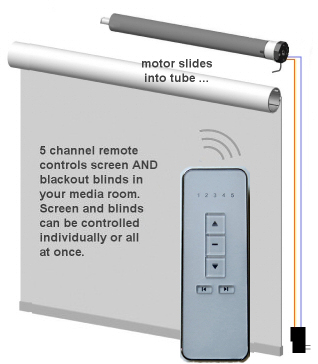 FAQ: Are your skylight shades also battery operated?
All our motors run on 12 volts DC and can be backed up by battery operation if the AC system fails. We also have special motors with built-in batteries.
If you are planning to operate them solely by battery, without any AC charging, you could use the non-remote motors with a manual switch:
projector screen or large shade motor
The above motors consume no power when they are not operating. You would have to re-charge the battery occasionally. We also have motorized electric skylight openers.
If you need to make a large skylight or bottom-up shade, you could also consider using our ShadeSlider™ chain drive skylight shade motor kit. It does not require any spring loaded roller for operation, so it can handle large shades with ease.
If you want to use our remote control radio-equipped motors solely with batteries, you would need to consider the standby current requirements while the motor 'listens' for a command. Our regular motors consume about 20 to 30 milliamps (mA) of constant current, and will flatten a small battery after a few days if it is not recharged.
We do have special motors for use with solar panels that have an ultra low 'listening' current of only 0.03 mA, that might be another option for you:
ultra-low standby current remote control solar motor
Please keep in mind that our DIY skylight system you see on the website uses a big retraction spring and it requires a bigger motor, so there are design considerations you would need to address.
We sincerely hope you enjoy using these advanced motors; if you have any questions, please feel free to contact us at any time!